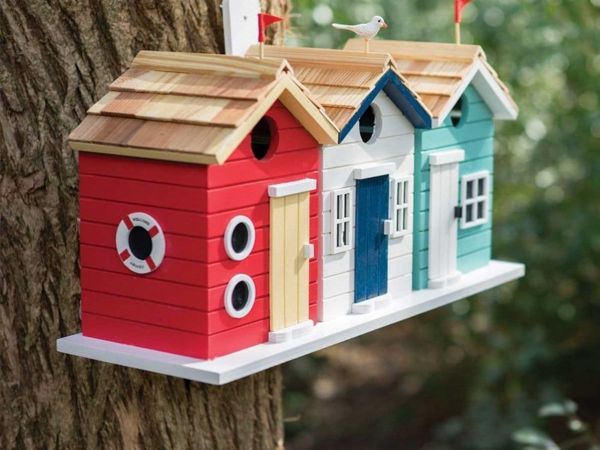 Birdhouse with your own hands: basic standards in construction
The birdhouse, made with your own hands, is guaranteed to be inhabited by birds, you only need to meet a number of requirements during production.
boards should preferably be chosen from hardwoods. However, a well-dried pine Board may also be suitable.
the thickness of the Board is suitable for 18-20 mm.
when assembling your birdhouse, use nails or screws. Glue can scare off birds with its smell.
plywood, chipboard, and fiberboard are also not recommended for building a birdhouse.
The size of nesting box for different species of birds
Before you start making a birdhouse, it is very important to determine which bird will settle in it

For example, the diameter of the letterhead:
the Starling needs 4.5-5 cm.
for Redstart 3.5-4 cm.
for Tits, sparrows 3-3. 5 cm.
If the number of years is too large, there is a risk that larger birds will settle in the birdhouse. In addition, it will become easily accessible to predators.
Be sure to observe the standard dimensions of the bird house. This will allow them to sit comfortably and take care of the brood. If the size is larger than necessary, there is a danger that too many offspring will be bred, which is difficult to feed. And the Chicks will eventually be weak and unable to fly.
So, standard sizes
for starlings:
height 30-35 cm.
the bottom inside is 15x15 cm.
for Tits
height 20-25
the bottom inside is 12-14 cm.
for flycatchers
height 15-20 cm.
the bottom inside is 12x12 cm.
How to make a birdhouse beautiful When making a house for birds, it is important to find a balance in that it has an attraction for birds and pleases the eye of the owner of the site.
Therefore, when you design a birdhouse, use decor made of natural materials. It is better to use soft colors. For example, brown, maroon, or gray.
Making a birdhouse: step-by-step instructions Making a birdhouse will not take much time and will allow you to have a great time with your child. The benefit will be for all participants in the process and end users of housing

Making a birdhouse, the necessary tools:
roulette
a hammer with a screwdriver
hacksaw or miter saw
screw driver or drill
jigsaw
Production of a birdhouse, materials:
Board 1000-190-20-1 PC. (front, back wall and bottom)
Board 700-250-20 - 1 PC. (roof)
Board 700-150-20 - 1 PC. (side walls)
self-tapping screws 45 Cut the workpiece to the desired size
Make notches. If there is no special drill, then the entrance can be made with a jigsaw, having previously made a marking with a pencil. Corners on the bottom and roof can be rounded off with a jigsaw. When all the parts are ready, you can start assembling the first thing we screw the perch. Next, screw the side walls and the back wall. Now it remains to fasten the bottom and roof. And the final element, a wooden corner 30x30 mm., we nail small nails on the roof ridge. That's all the birdhouse is ready for housewarming!
DIYs & Tutorials on the topic