Embroidered Brooch with Easter Bunny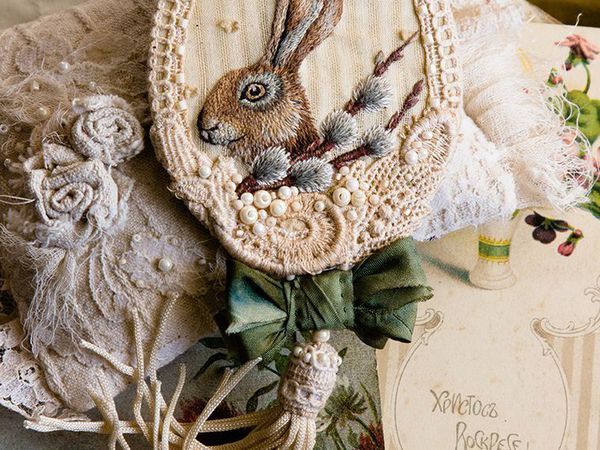 Today I publish my first master class. The event is a bit exciting because I'm showing my workflow. For me, this is a very intimate thing, and when I was a child in a theater workshop, I felt as if I was in a Museum or costume room alone at night, while not daring to touch anything, because again-the magic can be destroyed :)
On the other hand, I like to share my material experience and want people to start a new business without thinking that they can't do it and not give up without trying. I know very well how this happens.
It's hard to imagine, but as a child, I hated embroidery so much that it was inferior only to rice porridge. In work classes, I watched the girls with beatific faces carefully draw dull emerald green leaves on the canvas of the embroidery frame, while I struggled with my shaggy weeds. Moreover, there was nothing creative about the process. I started embroidery again three years ago. Yes, Yes. But this is a completely different embroidery:) It is more like drawing with a needle and requires only the ability to make three or four basic stitches.
I will show all the stages of work on the example of creating a brooch with an Easter Bunny and a willow branch. I want to say that I do not like Souvenirs and small things that will never come in handy, so I prefer to give and receive gifts of things that can tell the story of at least a couple of generations.
I was inspired to create this brooch by memories of my grandmother's album with old pre-revolutionary postcards, which I loved to look at a hundred times! There was a whole page-turn dedicated to the holiday of Bright Easter. I tried to put the charm of those dear old pictures into this work. So, here we go.
Materials we will use:
needles — my favorite "Hand needles for embroidery with fine wool" 9 and a needle for beads 10-12. You can take the needles that are convenient for you;
embroidery fabric (any plain light fabric, in my case thin cotton);
tambour. Mine are wooden, 10 cm in diameter;
floss threads (a gradient of four colors from dark brown to light brown, a gradient of four colors from dark gray to light gray, brown threads with a reddish hue-three colors are enough, one shade of cold brown and one warm gray shade);
ordinary thin black and white sewing threads;
monofilament;
the basis for embroidery or hard felt;
a small piece of soft felt;
any cotton lace (synthetic I do not like because of too Frank texture, if you find a beautiful one, then use it);
cotton braid;
beads and beads;
silk ribbon (you can take a non-silk one);
cardboard or heavy paper;
glue "Moment crystal", E-6000, "Moment rubber" or any similar glue;
mounting for a brooch of the appropriate size. My — 5 cm;
material for the underside. I use Ultrasuede artificial suede. You can take leather or suede. I don't work with them;
pendants or a brush made of thread. If you have a ready-made suitable brush, you can use it. I will also show you how to make a brush from the materials at hand. 1-2. The first thing we need is inspiration. I'm serious. Never start working without it (I hope everyone knows this) :)
The second is a rough sketch. I almost never make accurate sketches on paper, because I'm used to keeping the composition in my head, and I like to improvise in the process, which is more intuitive than technical for me.
I usually make a drawing of what I'm going to embroider. I take it out of my head or search for images in Google. Then I draw with a black pen on life-size paper. Which is what we're going to do right now.
For those who are not friends with the drawing, I suggest that you print the image you like in bb and slightly increase its contrast, if necessary.
Be sure to pay attention to the fact that your drawing fits in your fingers. So I settled on the Central hare. 3-4. We fill the fabric in the embroidery frame and transfer the image. I do this using a light tablet — I pin the paper to the fabric on the back side and draw a pencil around it (you can take a disappearing marker, but I don't have it :) you Can do the same using a window or any illumination from the bottom. 5-6. Done! Now we begin to embroider. First, we draw the outline of our hare with a seam back of the needle. I always embroider with a single thread. 7-8. Then I embroider the eye. For some reason, it is psychologically important for me that the eye is available from the very beginning. I can't explain it :)
Using ordinary black thin sewing thread, the same seam back the needle (only very small stitches) will outline the contour of the eye, then embroider the pupil. I embroider, looking at a photo portrait of a live hare and draw :) You can just repeat after me.
Add the usual white thin threads glare on top to make the eye look voluminous. Then fill in the remaining space with small ordinary stitches. In hares, the iris is usually ochreous-mustard. We embroider these threads, also add a light glare on top and in the corners of the eye-a few stitches with slightly darker threads. Done! Now he's looking at us! :) 9-10. Three tones of gray threads embroider the wool around the eye, it has a different direction, so it will be the first. We use the most ordinary straight stitch. 11-12. Add shadows from the contour with very small stitches to the darker gray. Then add a cool light brown shade of liveliness with arbitrary small stitches along the edge and then embroider the shadow with the darkest shade from the bottom of the circle (the result in the next photo). We will also embroider the shadow outline on the ear with these colors. 13-14. At this point it was evening and the white balance in the photo changed :)
We take the two darkest shades of warm brown and begin to fill in the part of the muzzle that is in the shadow with the smallest stitches. I do this: first randomly perform stitches of the darkest color, then add lighter ones in empty places. Hare hair has a very complex color, and this technique allows you to make embroidery more lively and naturalistic. The cheek is the lightest spot, and there again the long hair grows in the other direction. Therefore, approaching the cheek, we begin to add lighter stitches, and the long hairs themselves begin to embroider a cold shade of light brown. 15-16. We add warm light brown shades of our gradient to the cold color. We make stitches of different lengths and mix colors. This again will make the Bunny more alive.
We embroider the nose with the same tiny stitches. To do this, mix the stitches of two warm light brown threads.
The muzzle pads are embroidered with light gray threads, using a French knot seam. Add a warm light brown to them and thus smooth out the color transition.
Take the usual thin black thread and add contrast, emphasizing the nose, pads and ear line with thin stitches. 17-18. The two darkest tones of a warm brown gradient make a shadow on the neck and head, on the tips of the ears. 19-20. On the ears, we embroider the transition of color from dark to light and then emphasize the volume with a cold shade. Bunny is ready! 21-22. Now let's start embroidery willow. Cut out five small ovals from soft gray felt and, using just a drop of glue, fix them on the fabric. 23-24. The branches of the willow that grows near my house have a pronounced maroon hue, so I will take three different skeins of thread in this range. As at the very beginning, we will draw the contours of the needle with the seam back. Then fill the branches with random straight stitches — this is necessary to create volume. Horizontal tight stitches embroider branches, capturing the contour. In principle, we can stop here. Due to the volume of the branch looks alive, but I added more maroon and light highlights. 25-26. Embroider the kidneys. To do this, use random stitches of slightly different lengths to make the transition from cold dark gray to light. I used three shades of thread. 27-28. For liveliness, we add a warm gray shade and use the usual thin white threads to make individual stitches along the contour. Done! 29-30. We take out the embroidery from the embroidery frame and cut out an oval from the dense base that fits us in size. I use A base for Lacy's stiff staff embroidery or a similar density felt. We cover the base with a fabric, glue all the fluidity and sew it with a thread. 31-32. Now let's dream a little and see how you can decorate our brooch. For me, this is an intuitive process, so the only thing that guides me when I cut out pieces of lace and choose a braid is a sense of harmony. I often paint them, but in this case I liked the cream-colored texture.(This lace has already been dyed with tea). In General, try it-it's interesting :) 33-34. We sew the brooch along the contour with a cotton ribbon. In principle, it would be possible to stop here and attach some romantic bow or some other fintiflyushku... By the way, a bow! :) 35-36. Sew small inconspicuous stitches lace elements to the base. This is sometimes difficult and I use a pair of pliers. Then we take the appropriate color beads, beads, and anything that you think is acceptable. Meanwhile, the evening has come again, and the white balance has changed :) we Complement the composition with simple embroidery :) Here it needs just a little bit. 37-38. Making a brush. (If you have a ready-made one, you can skip this and the next steps). These lovely pieces always add vintage charm to jewelry. We take a bunch of braid for making brushes of the desired thickness and length and tie it with a thin thread, leaving about 3 cm on top. Then we take a piece of felt, smeared with a Moment of crystal and wrap the bundle where the thread is tied. There should be a lot of glue. Wait until it dries, press and cut off the upper part of the braid. We glue it if necessary. Sew the felt, forming a cap. 39-40. Decorate the lid with lace and anything you want. From the silk ribbon, we form a careless bow that just happened to appear on stage 33-34 in my head :) 41-42. We sew the brush to the bow and the ready-made structure to the base with a double monofilament. I go back and forth about four times. 43-44. We glue the attachment to the brooch. (I then also fix it with threads for added strength. Unfortunately, I didn't capture this moment in the photo). Then cut out an oval or rectangle of suede that is larger than our mount and glue it. 45-46. Cut out two ovals. From cardboard-an oval slightly smaller than our brooch, and from suede-exactly the same size as the base. Do not forget to make holes for mounting and glue first a paper oval, and then, first be sure to try on, glue the suede one. Sew a loop seam over the edge. Done! Now the brooch can be given to someone! :) Thank you for your attention! I hope to be useful :)
DIYs & Tutorials on the topic