Create to Create Delicate Plaster Pendants with Flowers Prints
Difficulty: Easy

Materials:

gypsum

,

clay

,

plants

,

flowers

,

acrylic paint

,

acrylic lacquer

,

brush

,

sandpaper

,

thick woolen cloth

,

lace

,

tweezers

,

water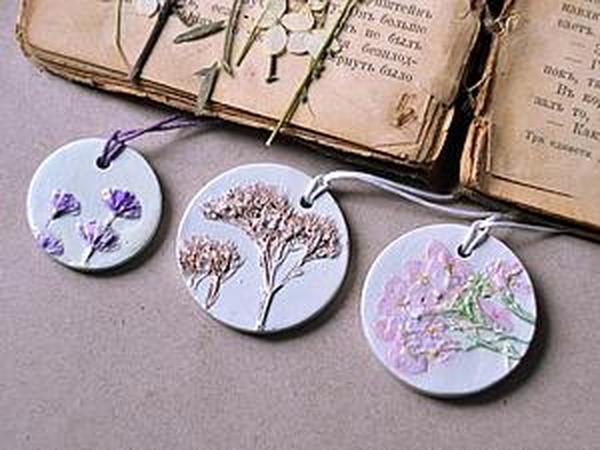 To work, we will need:
gypsum (can be used for construction);
plasticine;
plunger;
office knife;
form for filling plaster (you can caps with a cut top);
acrylic paint;
acrylic lacquer;
sandpaper;
drill;
lace;
tweezers;
dry flowers (you can use fresh flowers, lace);
Roll out the plasticine on the oilcloth. I use dry flowers, so you should soak them in water for five minutes before working. Then it will be easier to get them out of plasticine. Put the plants on the clay. We roll them in plasticine. We make sure that they reflect well. Take out the plants. And we get the rest with tweezers. Make sure the prints are clean. With plastic caps, we make shapes. We breed gypsum in a ratio of 1 to 2. For the volume of the mold that I use, two teaspoons of gypsum, diluted with four tablespoons of water, are enough. The consistency of the plaster should be like sour cream. Stir well and pour. Leave for 30 minutes. Do not rush to get the workpiece, it is necessary that it has dried out. We separate the form from the plasticine. And again leave to dry near a warm place for about five minutes. Carefully remove the blank from the mold. Leave to dry near a warm place for a few hours. When the ingot changes color from gray to white, it will become easier, so it has dried up. Use fine sandpaper to sand the uneven areas on the back, on the sides. Carefully grind on the front part, so as not to touch the impression of the plant. Brush clean the workpiece from gypsum dust after sanding with sandpaper. Drill holes with a thin drill. We paint it. And again leave to dry the paint. Final varnishing to complete the look and protection. Leave it to dry. The lace of the desired size is passed through the hole. All set. My master class in a children's magazine: DIYs & Tutorials on the topic