Tiny Crochet Flowers by FancyKnittles Fit on Finger Pad
Category: Ideas & Inspiration
Practices: Crocheting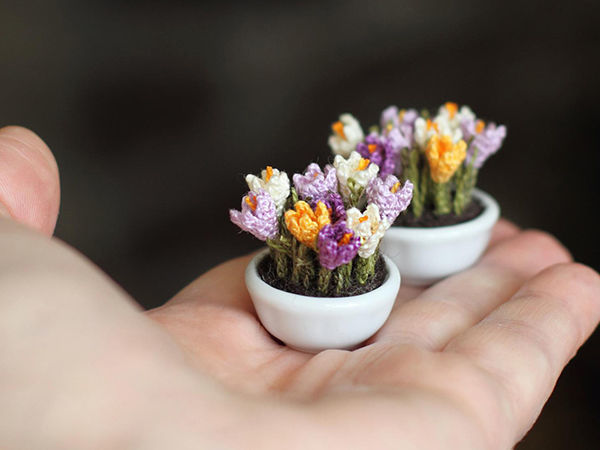 Very soon (if not already), many of us will be immersed in taking care of our garden. Although what can I say, with the arrival of spring, the desire to get a new green resident becomes almost unbearable — even on the windowsill in the apartment :)
But if there is no place to plant flowerbeds, and there is no place on the windowsill, how do you like this option: let the flowers be miniature! For example, as in the UK craftswoman named Irene: a woman crochet tiny plants on a scale of 1: 12, so that her flowers do not exceed 3-5 centimeters in height. Flower pots with crocheted violets Mini garden with crocheted violets in 1:12 scale
Irene's floral brand is called FancyKnittles. Initially, the knitter created mostly crocheted dolls, but over time, the plant world became the Central theme of her work. In General, she learned to knit at the age of five, and for her lifelong hobby she thanks her grandmother, who taught the girl to create magic with the help of a hook and thread :)
The craftswoman actively "plants" a variety of flowers and shares touching moments of the birth of a particular plant. This is how, for example, it looked like planting a miniature strawberry in a wooden pot: Crocheted strawberries in the process of " planting» The finished plant is already in the pot
And in the following shots the hyacinth bulb takes over the house: Transplanting crocheted hyacinth into a pot Fancyknittles crocheted greenhouse with hyacinths, daffodils, violets and even a small snail
What else blooms in Irene's crocheting garden? Let's take a look together: Miniature water lilies Crocheted iris in a pot Touching miniature snowdrops in a ceramic pot Spring crocuses in miniature Crocheted tulips of all possible colors Crocheted four-leaf clover for good luck Elegant roses in 1:12 scale Bright poinsettias with a beaded core
The tiny symbol of Scotland is the Thistle: Thistle flowers with tiny ladybugs Planted in a pot crocheted Thistle
Sunflowers are available in two versions — in pots and vases: Miniature sunflowers in pots The flowers are sunflowers in vases teddies
In the collection of FancyKnittles there was a place for various cacti and succulents: Blooming cactus in miniature Miniature crocheted composition in the form of cacti Cacti and succulents in 1:12 scale Tiny сrocheted succulents
In addition to houseplants, Irene crochets garden and field flowers and collects them in beautiful bouquets: Сrocheted red poppy flower Сrocheted bouquet of daisies Miniature crocheted rudbekii Miniature bouquet of crocheted daffodils A sheaf of miniature ears of corn Bouquet of miniature wild flowers Elegant crocheted bouquet in the style of Provence
And for sweet things, the most special works of the craftswoman — blooming love :) Heart flowers crocheted in 1:12 scale Crocheted hearts-plants from FancyKnittles
Put "Like", add the publication to your favorites and write in the comments whether you liked the work of the craftswoman. Thanks for your attention!
See also:
Floral Symphony of the crochet hook: stunning micro-works from Un Fil >
Embroidered greenhouse: voluminous Carrie Goff panels that can easily replace home plants >
The world of vintage miniatures by Japanese artist Kiyomi >