Colorado Dog: How Aspen Dog Conquers Mountain Peaks And Our Hearts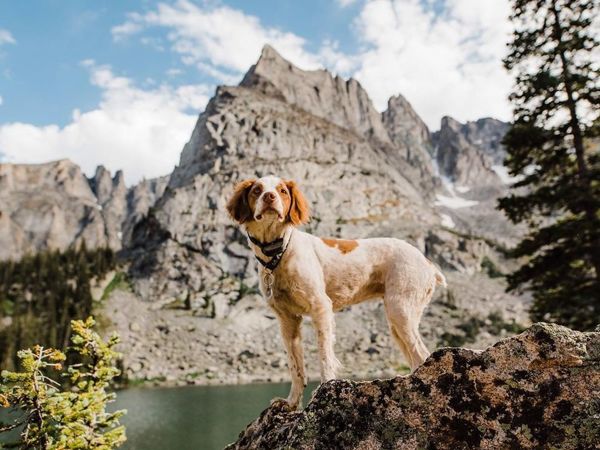 "Chasing squirrels, looking for adventures, likes to eat, understands hugs" - that's all that is written on the page of a cheerful dog named Aspen. But dogs, as you know, are not the best storytellers, so I will tell you about the adventures of this super-dog from Colorado and its owners. 1. The name Aspen can be figuratively translated as "trembling, fearful". But this does not apply to this dog! This girl of the Breton Spaniel breed is not afraid of anything or anyone: she is happy to run through the woods and fields, and sometimes even tries to escape from her owners — but she always returns. 2. Aspen is a real rock climber. Together with its owners and furry friends, it conquers mountain peaks more than 4 km high! Aspen dog on mount Bierstadt Aspen and another dog on mount Princeton Aspen on mount Oxford
3. This dog is a real fashionista. She has a whole wardrobe of bright bandanas, colored collars, and even jumpsuits. See for yourself: Aspen in a fashionable cap and collar with a collar Aspen in a green bandana Aspen in a winter jacket Aspen in a blue scarf Aspen in a red bandana
4. Although it may seem that Aspen is a fan of posing for the camera, her owner admits that this is not the case: one of the owners has to shout "Rabbit!" to make fidget look in the right direction. Looking at these photos, I can't believe that Aspen is a forced model :) Aspen against the backdrop of mount Aspen (perhaps this explains its name) Although in some pictures her restless nature is visible to the naked eye: Aspen catches a snowball
5. Aspen values handmade. Yes, she even has a hand-made bed in the style of dog shabby chic! Aspen in his cot
6. Aspen has wonderful hosts. But I think you've already figured that out :) You can still talk about Aspen-traveler for a long time, but I'd rather just share the most cheerful pictures of this dog. I hope they cheer you up as much as they do me :) Thank you for your attention to my publication! I will be happy to see your pets in the comments — I'm sure they are no less photogenic than Aspen :)