DIY Patchwork Blanket From Old Favorite Things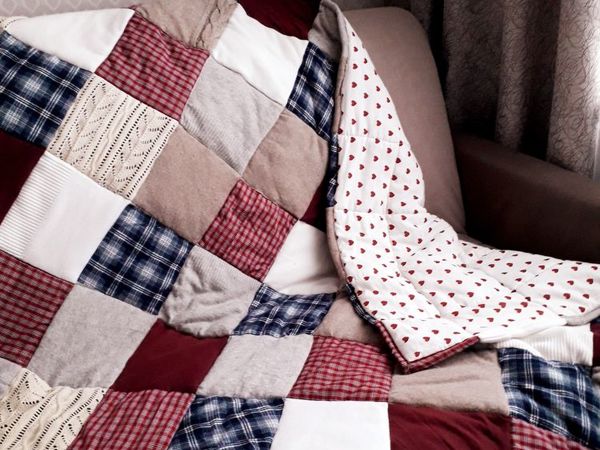 For sure, many housewives have faced a situation when they do not want to throw away old clothes. High-quality material, interesting pattern or pleasant memories do not allow us to say goodbye to things without pity. So in my case, after going through the wardrobe, no one found unnecessary things in good condition. It was decided to change clothes to a warm country blanket.
All the materials needed:
- 7 items (jumpers, shirts, turtleneck, t-shirt)
- Lining (in my case, an old duvet cover)
- Padding polyester
- Threads of 2 colors
Tools:
- Sewing machine
- Sewing pins
- Scissors
First of all, all the things were cut into squares of 17*17cm. there is nothing wrong if the seams of clothing got into the square, and if you specially cut the pocket, the result will be more interesting. The cut squares turned out to be more than 120pcs. So the plaid turned out to be 11*11 squares.
For convenience, I decided to divide all the colors equally into 4 groups and put these groups in turn. Having laid out the first group of segments, I began to sew according to the following scheme. First, row 1 on the red dotted lines, then row 2 on the red lines, etc. After that the rows are sewn together on the yellow line. To make the corners of the squares match, I fastened them with sewing pins when I sewed the rows. According to the same principle, 3 more groups of flaps are sewn together. Then all the groups are sewn together into a single canvas.
I spread the sewn fabric upside down, cover it with padding polyester, put the lining on the padding polyester face up. The lining with synthetic padding at the edges is 3cm smaller than the patchwork fabric. These 3cm will go to the gate of the edge. Pins fasten all layers, so that they do not move out during stitching. Now you need to stitch each row on the seams of the squares. This way, the padding will not get lost during washing and operation of the product.
The most recent action is to wrap the patchwork edge to the lining and stitch. I used to stitch it up:
backing → padding polyester → front side A little perseverance and patience, and now a cozy warm blanket is ready ! The size of the finished product turned out to be 170*170cm. In total, I had to buy only padding polyester for 350 RUB. For such a plaid, this is a ridiculous price, but how much benefit it will bring!
DIYs & Tutorials on the topic