Time For Mulled Wine: How To Make A Warming Winter Drink. 5 Recipes For Every Taste!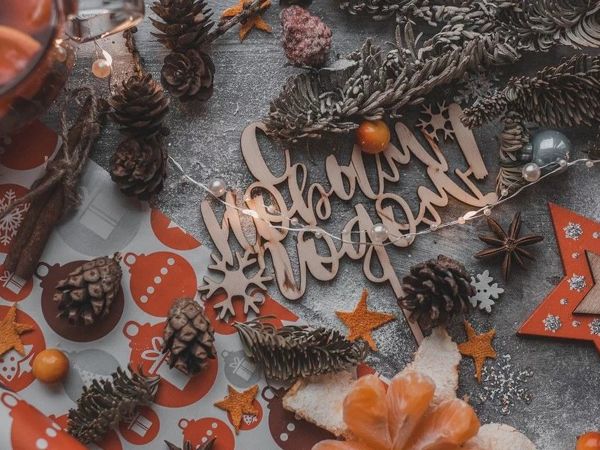 What drink comes to your mind when you think of winter? For me, a winter day is like tea with lemon from a thermos, New Year's Eve is cold champagne, and long evenings on the eve of holidays are like hot mulled wine. I think those who have been to European Christmas markets will agree with the last point. Today I want to tell you about this drink and, of course, share recipes! The word "mulled wine" comes from the German "glühender Wein" (abbreviated "Glühwein") — "hot wine". Traditionally, this drink was a heated wine with spices, but now there are many variations — including non-alcoholic, which are suitable even for children. Almost all recipes of mulled wine include cinnamon and cloves, often — star anise and citrus, sometimes — ginger or honey. I do not recommend using ground spices, though, as in this case the drink will be difficult to filter. There are hundreds of options for making mulled wine but I have prepared 5 easy recipes of mulled wine for every taste, which can be recreated by everyone.
How to make mulled wine: a classic recipe
The base of classic mulled wine is red wine — it is better to choose dry or semi-dry. To prepare classic mulled wine you will need:
bottle of wine;
2 cinnamon sticks;
4-5 clove buds;
1 tbsp sugar (if you like sweeter drinks, you can add more);
Optional: ginger, star anise, orange zest. To prepare mulled wine, you need to mix the wine, spices and sugar in a saucepan and heat up to 70-80 degrees. Even if you do not have a thermometer, this moment is easy to determine by eye: the wine begins to steam, and a little later first bubbles may appear. Try not to boil the mixture — otherwise part of the alcohol can evaporate and the taste will be less rich. Remove the pan from the heat, cover it with a lid and leave for at least 5 minutes. Before serving, the mulled wine should be filtered so that the drink does not have floating pieces of spices.
How to make non-alcoholic mulled wine
Mulled wine does not have to be alcoholic — there are many options for those who do not like or do not drink alcoholic beverages. Usually non-alcoholic mulled wine is prepared on the basis of different juices — apple, cherry and, of course, grape. The latter option seems the closest to the original taste of mulled wine. You will need:
1 tbsp dark grape juice;
1 cinnamon stick;
3 clove buds;
3 slices of fresh ginger;
1 orange.
Optional: star anise, black pepper, honey (add in the very end, if you like your drinks sweet). The cooking process is almost the same as in the classic mulled wine. Pour the juice into a saucepan, add the spices and sliced orange. You can mash an orange a little, so that it gives juice. Remove the pan from the heat before it boils and let stand. Before serving, do not forget to filter the drink.
How to cook mulled wine with orange
Orange makes the drink more juicy and less rough — and also looks great! To prepare orange mulled wine you will need:
1 bottle of red wine;
2 oranges;
a couple of lemon slices;
2 cinnamon sticks;
7-8 clove buds;
3 tbsp of honey.
Optional: star anise, ginger, black pepper. To make orange mulled wine, cut the orange into slices, put in a saucepan and mash it to let the juice. I advise you at this stage to put aside a couple of orange slices to decorate the glasses. Add wine, spices and lemon slices to the saucepan with oranges, put the pan on medium heat and heat to 80 degrees. Let the mixture stand under the lid. When it cools down a little, add honey, filter the drink and serve!
How to make tea mulled wine
Mulled wine is definitely not an everyday drink. For those who really like its taste, there is an alternative: tea with a taste of mulled wine. There is no wine or juice in this drink, but due to the addition of spices its taste resembles real mulled wine. Ingredients:
black tea;
1/2 orange;
1/2 lemon;
cinnamon;
clove buds;
honey. Pour hot water over the black tea. Add to the teapot a couple of slices of orange and lemon or juice of a half of each fruit, as well as spices. Let it brew. Before drinking, add honey to taste.
How to make mulled wine in 5 minutes
Sometimes you want mulled wine, but there is no time to stand by the stove. What can you do? In this case, I advise you to buy a ready-made set of spices for mulled wine. The method of preparation is simple: pour the wine into a saucepan, pour the spices from the bag and heat to 80 degrees. The whole process will take no more than 5 minutes. Usually detailed instructions are listed on the bag itself — I will not duplicate it:) The main rule: do not forget to filter the ready drink.
Finally, I want to say that these recipes are good as a basis, but do not be afraid to experiment and change them to your taste. Try to cook mulled wine on white wine instead of red, put tangerines instead of oranges, remove cinnamon if you do not like it, and add vanilla if you want it sweeter. Though it will no longer be a classic mulled wine, the most important thing is that you like it. I hope you'll find my recipes useful. Thank you for your attention to my article!