Tetris Challenge: Firefighters, Doctors And Needlewomen Around The World Lie Down On The Floor To Participate In This Viral Flash Mob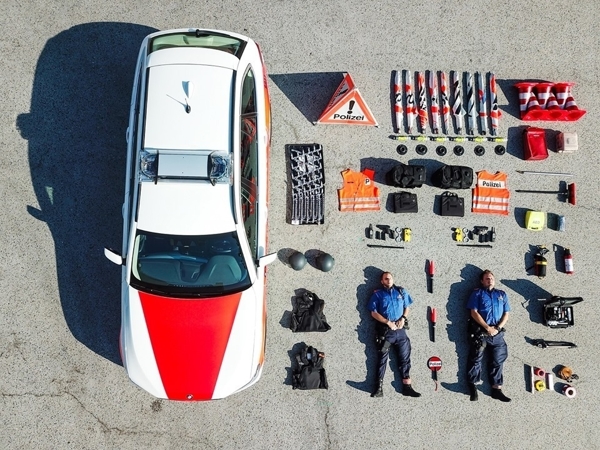 There is no doubt that emergency service workers are serious people, but they also have a sense of humor. It was them who started the Tetris Challenge flash mob. Its idea is to take a picture of a person surrounded by objects that are necessary for their professional activity. The first picture was taken by the main guardians of order and law: the police from Zurich. Photos of the Swiss police which initiated Tetris Challenge
Soon other emergency workers from all around the world began to join the flash mob — and I'm not exaggerating! Professionals from Croatia, the Netherlands, Germany, Taiwan, Israel, Russia and many other countries shared their pictures. At the moment, the project was joined by more than 30 thousand people, and every day the number is increasing. Snapshot of German firefighters for Tetris Challenge Crew and equipment of a Dutch tank Firefighters from the capital of Croatia take part in Tetris Challenge Taiwan police and Tetris Challenge Israeli ambulance crew photographed for Tetris Challenge
Pictures with airplanes look especially impressive. Judging by their number, the participants also think so — both representatives of military aviation and civilian airlines. Indonesian air force participates in Tetris Challenge Tetris Challenge by the Hungarian air force Russian airline took part in Tetris Challenge An impressive shot from the international organization Strategic Airlift Capability Employees of the Dutch airline near the plane
At first, the flash mob was started as a way to highlight the work of emergency services, but over time it became viral, and people of other professions joined it. They saw it as a way to tell people more about their work. Geographer from Hungary participates in Tetris Challenge A road worker takes part in Tetris Challenge Photo of the builders of Tavrida Highway Tetris Challenge from a neonatologist Bakers from Hungary took a photo for Tetris Challenge Israeli pilot participates in Tetris Challenge Rally racers photographed with a car for Tetris Challenge German surgeon with tools for Tetris Challenge Picture of a veterinarian from Belarus for Tetris Challenge Fisherman and his contribution to Tetris Challenge Yoga in Tetris Challenge The registry office of Moscow also decided to support Tetris Challenge Dynamo hockey players participate in Tetris Challenge
And of course, creative people would not be themselves if they did not join such a flash mob! Models, makeup artists, florists... Tetris Challenge by makeup artist Model from Belarus and her Tetris Challenge before flying to Miss World Florist took a photo with tools for Tetris Challenge
and needlewomen! Tetris Challenge by felter Mary Khait Photo for Tetris Challenge by Asya Sinyavskaya A snapshot of the hand-made inventory for the Tetris Challenge Handmade Tetris Challenge by Inna Afonina Tetris Challenge from an artist
It was very difficult to choose a limited number of photos — in my opinion, they all deserve attention. I think this is a great way to learn more about a particular profession. The longer you look at the pictures, the more details you notice and the more interesting it becomes. In the end, I will share two of the sweetest and funniest shots: Corgi participates in Tetris Challenge Photo of cat for Tetris Challenge
Which photo impressed you most?