Dachshunds Invasion: Hundreds Of Dogs In Costumes Took Part In London's Hydepark Sausage Walk Festival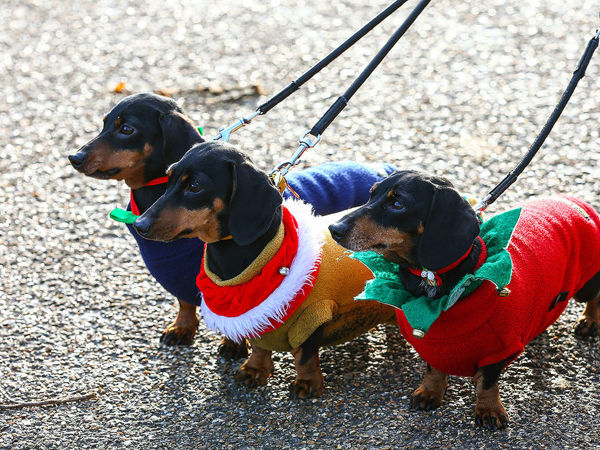 If you still do not have a festive mood, dachshunds are in a hurry to help — in carnival costumes! It's not just a selection of photos from the Internet: all these dogs gathered at the Hydepark Sausage Walk Festival in London's most famous park. The event takes place every month, but most of the participants gather, of course, at Christmas. This time the Christmas walk took place on December 15. As you can see, London is also tight with snow this winter... The owners dressed up their charming pets in a variety of costumes. Dogs were seen dressed as snowmen, Christmas reindeer, Santa Claus and his elf helpers. Dachshund in a snowman costume Santa's real reindeer Dachshund dressed as Santa Claus Dachshund in an elf costume
And some participants chose not to choose a character and be themselves — in sweaters, scarves and tinsel. Dogs in sweaters Dachshund in sweater and scarf Dachshund in Christmas sweater
Although the festival was originally conceived as a walk of dachshunds and their owners, every year it is joined by more people and dogs of other breeds which are no less charming. Even the smallest representatives of dachshunds took part in the festival. I think this kid deserves an extra treat for his courage :) Dachshund puppy in a sweater
And there were those who openly sabotaged and refused to run on their own two feet... or four. But mom, of course, will not leave anyone behind. In general, the owners deserve special attention. Many do not stay aside and also put on festive attire — and even this, to combined with the clothes of a dog! It looks great: I think such festivals are a great opportunity to cheer up yourself and others. Although it took place in distant London, thanks to these photos we can feel the holiday atmosphere of fun from anywhere in the world.
I hope these positive pictures of dogs lifted your mood, as well as mine :) Merry Christmas and happy New Year!