Do Not Throw Citrus Peel Away! 15 Ways To Squeeze Everything From Citruses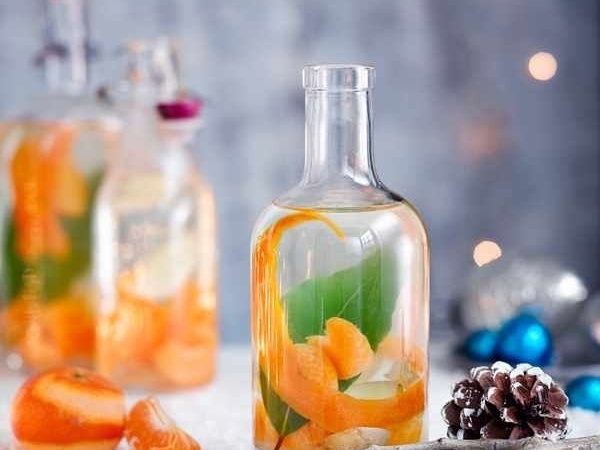 We are getting closer to Christmas and the New Year, which means that the tables have increasingly juicy and fragrant oranges and tangerines. Oh, that festive smell! But have you ever thought that citrus is useful not only as a fruit but also with the peel. It can be useful both for health and for decor!
I offer you 4 different applications of citrus peel.
Drinks and liqueurs
The peel is not only a useless husk, but the zest, which is used for a variety of drinks and dishes. Dry the crusts or peel and you can brew tea, use as a seasoning or just put in a jug of water. A helper around the house
1. Air freshener. One simple way is to dry the peel and fold it into a natural cloth pouch. This freshener can be stored in a bag or drawer with clothes. 2. No stains. If you use a dishwasher, then, for sure, faced with the problem of stains. If you run the machine with citrus peel, then you are unlikely to have such a problem again! 3. Citrus peel + salt. Great combination for cleaning coffee pots, chopping boards or kettles. Cosmetic
Since citrus peel is rich in nutrients, it is suitable for cosmetics that can be made at home.
1. Orange scrub. For it you will need a glass of sugar, citrus peel, olive oil and almonds. Peel needs to be grated on a fine grater, and then mixed with sugar and oil. 2. Orange oil. Peel is finely chopped and poured with olive oil. This mixture is best placed in a glass jar and stored in a dark place for about 5 days. After that, heat the mixture in a water bath and strain through cheesecloth. The resulting oil is also better stored in a dark place. Holiday decor
No less interesting category! Christmas decor of citrus slices will please not only the eye, but also fill the room with a pleasant smell. Share your recipes of citrus peel application in the comments!
If you liked the publication, put "Like" and rate it on a star scale :)
Thank you for reading!