Plum Color: 15 Stylish Ideas For Interior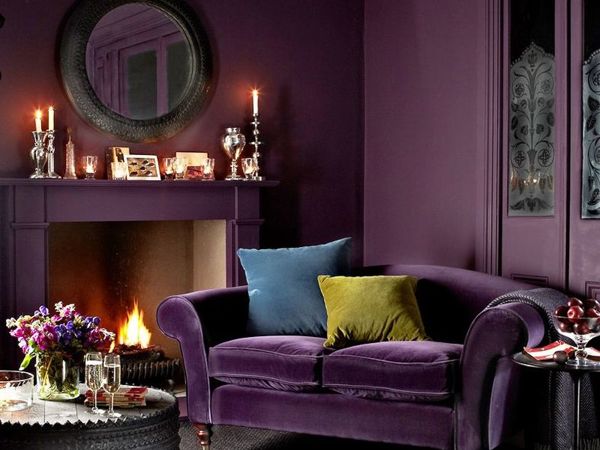 Plum color is associated with late autumn: it is quiet, cozy, calm. "Delicious" shade of ripe plums attracts attention. Plum color is neither burgundy nor purple, but something in between.
Deep, warm and cozy plum color can transform any interior. In the article I have prepared 15 stylish ideas for your interior . And remember! To transform the interior, it is enough to revive only one, but significant piece of furniture. 1. Doors
The theater begins with a hanger, and the house with... doors. For such a transformation, it is not necessary to change the door, it is enough to repaint the old one)) 2. Walls
It is not necessary to do all the walls in a plum shade. One wall, painted in plum color will be the perfect solution. 3. Furniture
Repaint a boring wardrobe or chest of drawers in plum color. You will be surprised how your interior will be transformed. 4. A comfortable sofa or a cozy chair.
Believe me, you will immediately pay attention to them and especially want to sit down. 5. Bed linen
Muted plum color helps to relax and relieve stress. So feel free to use it in the bedroom. 6. Carpets
Choose a juicy plum color and interesting textures. Another interesting solution is to use different shades of plum saturation. This rug will definitely be the highlight of your and nterer. 7. Curtains
Make a bold plum accent. Pay special attention to the material and texture. 8. Blankets and pillows
The interior can only be slightly diluted with plum elements. A few plum pillows and a cozy plaid will instantly transform your interior. 9. Tablecloths and napkins
Serving textiles in plum tones will look elegant. Pick up to plum your ideal color-companion. For example, gold or juicy green. 10. Tableware
Plum color will be especially attractive in the kitchen. "Delicious" color of the tableware and fine glasses lift the spirits and awaken the appetite. 11. Paintings and posters
One big picture in plum tones or several posters will become a bright detail in your interior. 12. Lamps
Soft dimmed light is a great solution. Especially interesting are the looks of plum with a warm beige shade. With such a lamp in the room will immediately become more comfortable. 13. Vases
The perfect complement to any interior in plum design will be vases. Vases, bottles, jars of different sizes and shapes look great together. 14. Candles
With them, the interior becomes especially soft, cozy and warm. Agree? 15. Flowers
And do not forget about the flowers)) Bouquet in different shades of plum in a transparent vase - the perfect finishing touch for your autumn interior. Put "Like", add the publication to your favorites. And in the comments, write what plum idea you liked the most.