Inspired By Acorns: 33 Non-Boring Ideas For Skillful Hands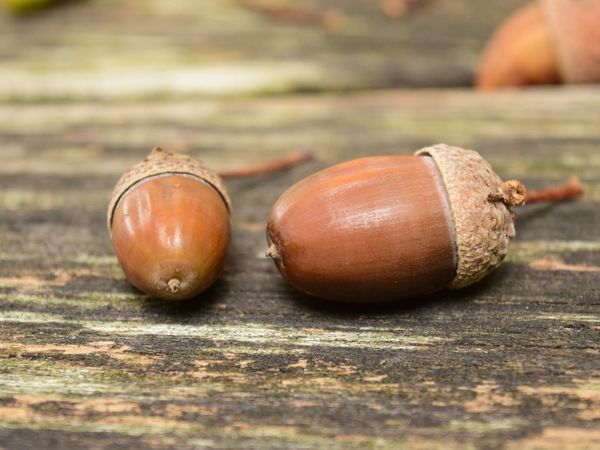 Acorns are a stunning decorative natural material! Nothing can compare with them, and nothing can replace them. They convey a special atmosphere of warm autumn: a forest with yellowed trees, dead fallen leaves underfoot, fogs and a mushroom smell. I'm crazy about them, and always use in my work, if I manage to visit the forest at the right time for the "harvest".
I could not miss an opportunity to share with you the ideas of using acorns, and in general products inspired by this material. Ideas are taken from the Internet, and I am grateful to the authors (though I do not know them) for the photos of beautiful works and apologize in advance if someone offended by posting photos without their knowledge.
So, the simplest variant of acorn decor is their coloring and painting. If you are afraid that you will not be able to draw a particular pattern, you can simply paint the acorns in one color — for example, gold. Very noble look, in my opinion. Also acorns look great when smeared with glue and rolled in glitter — it's a wonderful Christmas decor. If you are bolder, or have drawing skills, you can create real masterpieces! These painted acorns, and natural, can be used as an independent decor (folded into a beautiful glass vase or beautifully laid out on the holiday table), and as an addition to other decorative elements — for example, candlesticks. And, by the way, here's a nice idea, I do not know, however, how about functionality — but it's something amazing! Miniature candles in the caps from acorns. For those who want to go further and work longer-here are the ideas: a garland of acorns and other natural materials. And felted acorns — real caps, and the very "seed" is man-made. And still here is these me very appealed — illustrate, as remarkable looked would on Christmas tree such bells! And here's another great idea for a holiday or themed feast: napkin rings. Probably, you need to have some experience to carefully drill holes in the acorns and string them on a rubber band, but the result is worth it! And if suddenly you have, for example, a wedding in the rustic style-that's a great idea eco-boutonnieres. Larger-scale products made of acorns or their hats are wreaths on the door, frames for mirrors and photos. Unfortunately, when stored, when acorns dry up, they can fall out of the hat, and it will be a shame if this happens in the finished product. Therefore, to avoid this, I separate the acorns and glue the hat and nut with good glue. If they are not separated, then when assembling the product, I apply glue to the hat and to the nut itself. Well, if you have magical coordination, perseverance and patience, then look at such miniature ideas, I'm completely delighted with them! Here and boxes, and nests, and little owls, and Christmas faces. Or touching mushrooms. I don't know where to put them, but they are very cool)) And if you have a rich imagination, you can collect such things, from acorn hats and other natural materials. Of course, acorns inspire and masters of jewelry. I will not give many examples — I am sure that at the Fair there are many talented artists who use this image in their jewelry. And, of course, acorns inspire knitters and seamstresses to create amazing products! This wonderful needle-box has sunk into my soul! And what comfort emanates from these acorns, sewn from a warm fabric of muted shades! I would love to see your own products, or crafts made from this beautiful material, with children! Show what you have done, or what you would like to do! I don't have products made entirely from acorns. But there is such a wonderful wreath of different natural materials, in which the acorns are not the last role! PS In the process of writing the article repeatedly asked the question — what is acorn in its essence? Seed, nut, fruit? I turned to the encyclopedia. It reported that the acorn is a dry single-seeded syncarpic lower fruit with a tough leathery pericarp. Well, it is, to expand the horizons. :)