Decorate Cutting Board With Pyrography & Painting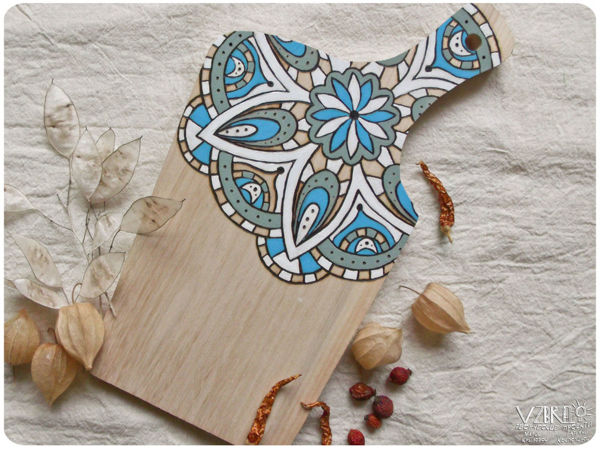 At one of the festivals we held a workshop on decorating of a cutting board. At the same time, when preparing the sample, we filmed the process for those who want to repeat this work at home :)
For work you will need:
apparatus for burning: any suitable for you and available at hand;
cutting board;
acrylic paints of three matching colors. We have it white, turquoise and greenish;
marking pencil, eraser;
paint brushes — soft synthetics, squirrel, Siberian weasel;
good mood and mood for meditative work ;) 1. We do not get tired of repeating that markup is not just the first thing to start work with, but also the main action on which the whole work is then built! If you do not think through the future drawing properly, you can face serious difficulties later, spend more time and effort, or simply spoil the work.
So, the picture should come up in advance and transfer it to the board using carbon paper. If you find it difficult to come up with, then the help of the Internet and a variety of coloring pages are always there 2. We begin to burn. Our task is to burn enough along all the contours of the future ornament. And here you can already see mistakes in the choice of drawing from too small parts. That is why we advise you to start burning with the largest elements. Of course, you need to try to burn as smooth as possible. However, wood (here — elm) is not conducive to this, and the manual work itself implies that the ideal lines could not be achieved. I write this specifically for those who think that there should be either perfect, or nothing ;) 3. Now it's paints turn.
Acrylic may be too thick to paint small parts, it can be slightly diluted with water. The key thing is slightly! Literally a drop of water on the palette. Carefully, trying not to touch the burnt contours, or vice versa, correcting them, paint over the segments of the picture. Acrylic perfectly fits on wood, but has a feature - the wood can shine through. We recommend applying two layers of each color. And so apply all three colors, step by step. The process is really very meditative) But now we have a beautiful cutting Board, which, contrary to the opinion of skeptics, can be used with might and main ;) We do not cover the Board with any varnishes and oils, and assume its use for slicing bread (from the undecorated side, this is important!) If you rinse the board from crumbs under water and wipe it dry, nothing terrible will happen. If it is supposed to be more severely used, it is better to impregnate the board with oil — it is better to use the flax oil, but you can also use a vegetable one. You can cover the painted side with varnish, unpainted-oil.
Come make friends and put likes, if it was interesting!)
All the inspiration!
Maria and Tatiana, VZBRELO
DIYs & Tutorials on the topic