This Hedgehog's Life Is More Interesting Than Mine: Meet Cheerful Animal Named Herbee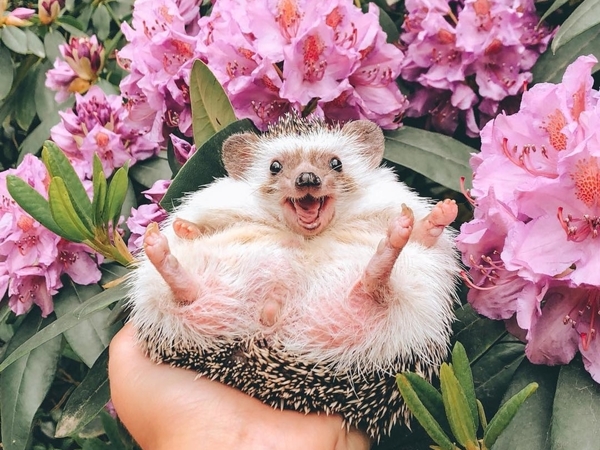 Herbee the Hedgehog is definitely lucky to have such a good keeper: he does not live in a cage, has a lot of walking, traveling and, of course, is being photographed! Cheerful hedgehog Herbie on the background of flowers Hedgehog Herbie with the mistress
The most popular photos are shots from travels in which the mistress took a pet with her. Hedgehog on the bridge near the lighthouse The hedgehog and the mountains Hedgehog on the sea with a typewriter on the background of palm trees Hedgehog Herbie in the mountains sitting in a backpack
But the main distinguishing feature of these photos is Herbie's charming smile, which will conquer anyone! Hedgehog in the field with sunflowers
In his place, anyone would smile: he eats delicious food, plays the guitar, collects dandelions and makes new friends: both prickly and fluffy. Hedgehog and cactus The hedgehog with a dog
He even has his own yacht! In fact, I just wanted to share with you pictures of a cute hedgehog and tell about it, but I learned a touching story. It turns out that before Herbie, his mistress had another hedgehog: Mr. Poke. With him, she began to travel and make inspiring photos. But one day Poke fell ill, and, despite the efforts of doctors, soon he was gone. The girl was very worried and did not want to get a new pet, but fate decreed otherwise. Once she wrote a friend who got a hedgehog, but found that she had a very strong allergy. That's how she has got the new pet. This touching photo shows Herbie, who "painted" a portrait in memory of his kinsman. Over time, Herbie had a girlfriend: a charming kitty Audrey. Apparently, they met over a cup of coffee :) The hedgehog and the cat
They spend a lot of time together: traveling, going camping, playing and resting. Perhaps the main lesson that can be learned from this story: when life gives you lemons, make lemonade! Thank you for your attention, friends! I hope Herbee gave you a positive charge :) And if you also have funny photos of pets, I will be glad to see them in the comments to my article!