How To Quickly Carve Beautiful Pumpkins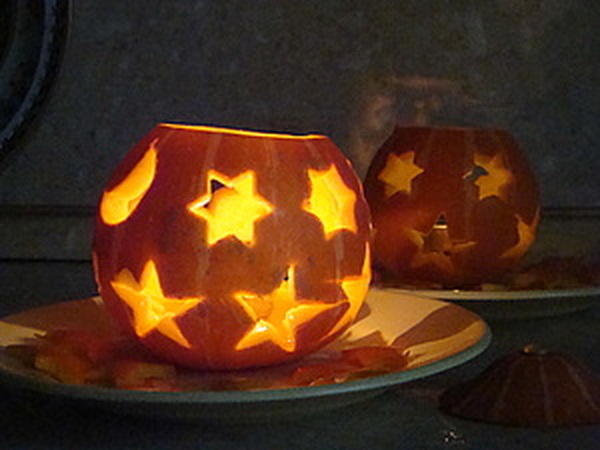 Hello, friends! I want to share with you how to quickly and beautifully carve pumpkins for a Halloween party or just for fall decor.
So, we will need pumpkins (I specifically grew 2 pumpkins of medium size in the summer), a spoon, iron cookie cutters, a hammer, a sharp thin knife and small candles. Wash the pumpkin and cut off its end – it will be a lid, so make sure that the pumpkin stands upright on the table and does not to tilt (if it turns out crooked, you can just slightly trim the bottom with a knife). Clean the pumpkin from the inside with a spoon. It is better to take a tablespoon with sharp edges. Pumpkin is cleaned easily and quickly. It is important to ensure that the inner edges are as smooth as possible and not too thin near the upper cut (otherwise it may break when the picture is applied), it is better to leave them about 5 mm thick. It turned out clean inside the pumpkin: Next, apply the picture. Here I want to say that pumpkin was intended for a children's table and that's why I specifically refused from typical Halloween faces and made magic star pumpkin. We will get a two-leveled picture, so we are starting with the lower one – applying the favorite iron cutter by sharp edges and slightly knocking on it with a hammer, to deepen the cutter inward the pumpkin. It is important not to overdo it and not to press too hard, otherwise the pumpkin may burst. Do so around the circle. The last two stars of the lower level, as well as the figures of the upper level of the pumpkin I cut with a knife, because it is risky to knock with a hammer, the pumpkin will burst and it will be difficult to correct (by the way, if there was trouble and the pumpkin broke a little, you can save it if you connect the torn edges very carefully from the inside with a toothpick). So, we apply a sharp cutter with a hand, put a little pressure, so that there was a picture and cut it with a knife. Carved stars can be used as an additional element of decor. The second pumpkin is cut in the same way. Put a candle inside and light it with the help of a long match. Important: the lid with a burning candle can not be closed! Such starry magic pumpkin-lamps turned out: In the first photo I have 3 pumpkins - the largest I stuffed with all sorts of goodies and sent to the oven.
Yes, the carved stars were too thick, so I cut them lengthwise with a knife: part with pumpkin peel I left for decoration, and part with the flesh sprinkled with sugar and also sent to the oven to bake, it should be delicious :) Another way to carve a pumpkin is to print the pattern, transfer it to the pumpkin and carve with a knife. But I did not want to mess with the printer, adjust the picture to the size of a pumpkin, etc., so I came up with this method. And the last pumpkin I carved for the first time, thought it would be more difficult. It turned out to be very simple and fast - two pumpkins took me only 30 minutes. The main thing - accuracy and desire to make a beautiful lamp. I wish you all a good holiday! :)
DIYs & Tutorials on the topic