40+ Dreadfully Beautiful Halloween Makeup + 10 Interesting Facts About Holiday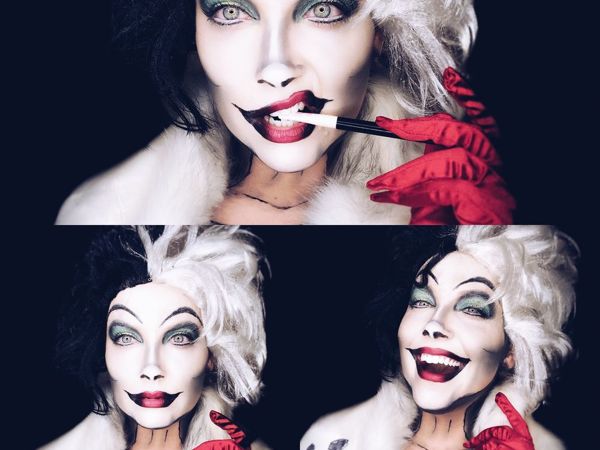 The scariest and the most terrifying night of the year is coming... the great and terrible Halloween! This holiday has become extremely popular around the world because of its bright and unusual attributes. However, few are aware of its deep roots and history, which according to some sources dates back to the 16th century in Ireland and Scotland. Also I would like to share with you 10 facts about this holiday: 1) the ancestor of Halloween is considered to be the ancient Celtic festival called Samhain, it was then that witches organized sabbaths and threw black cats into the fire as part of the ritual, so the birthplace of Halloween is Ireland;
2) it is believed that this holiday appeared in 4000 BC, i.e. it is more than 6000 years old;
3) America even has two self-proclaimed Halloween capitals – Salem in Massachusetts and Anoka in Minnesota;
4) the Scarecrow is one of the symbols of the holiday, because it represents its agricultural roots;
5) on this day, many Scottish women were guessing their betrothed ones. It was believed that you can see the chosen one in the mirror, going down the stairs, or on a wet sheet hung in front of the fire;
6) owls are also a symbol of the holiday, in the Middle Ages they were considered messengers of death and were associated with witches;
7) samhainophobia – fear of Halloween;
8) people used to create the lights from a turnip and not a pumpkin as it is now;
9) Halloween is the second commercially successful holiday after Christmas;
10) lantern in pumpkin had been used not for beauty, and for moreover, to scare away ghosts and evil spirits.
Many scold the "tradition that came from the West", but we can not agree with the fact that this holiday has become a source of inspiration for the creation of costumes, masks, scenery and much more. Especially interesting and inventive is makeup on this day. Here I offer you 40+ makeup ideas for Halloween party.
Animals: Mexican Day Of The Dead: The sensational image of Pennywise: Pixel makeup: Unicorn makeup: The man-skeleton: Famous characters: Makeup in the style of pop art: What happened to my face?! What image did you like the most?
If you liked the publication put "Like" and rate it on a star scale :)
Thank you for reading!