Chinese Lantern: Create Physalis Brooch Of Genuine Leather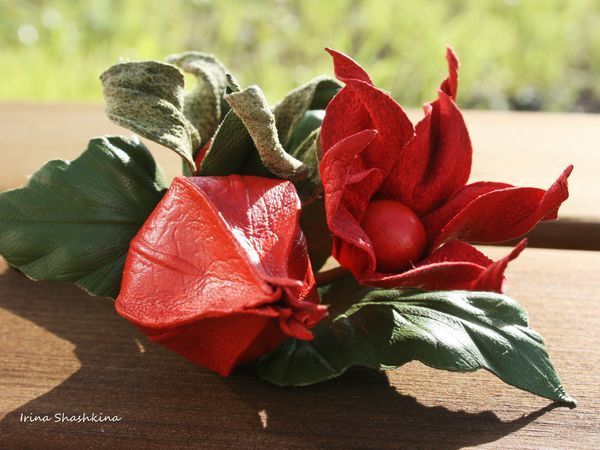 Physalis always reminds me of the summer warmth and bright autumn colors. Many of us like its red-orange lanterns because they miraculously persist for a long time on the branches, without losing their shape and color.
There is a simple but beautiful Chinese legend about this plant. Once an evil dragon swallowed the sun, and all life was plunged into impenetrable darkness. However, there was a brave man who decided to defeat the dragon. He set out on his long and perilous journey taking with him a lantern, which shone brightly on his way. In a fierce battle, the young man defeated the dragon and freed the sun. But the light was so bright that the hero had to cover his eyes with his hands and drop the lantern to the ground. As he fell, he became a multitude of small lanterns hanging from a single bush. That's how physalis was born.
Today I invite you to create with me my author's autumn physalis brooch, which I called "Chinese Lantern".
We'll need:
Genuine leather of two or three shades (shades of red and green).
Floral wire.
Cotton.
Acrylic paints (optional).
Green corrugated paper.
PVA glue.
"Moment classic" or "Moment Crystal" glue.
Scissors.
Clipper.
Tweezers.
Awl.
Scalpel knife.
Brooch pin.
Soldering iron, nozzles: knife and Japanese nozzle, hard pillow.
Let's get started!
In order to make a pattern, I disassembled the living physalis into segments and circled them along with the leaves on a sheet of paper. For the whole boll we need 5 separate segments of red, red-orange or orange – it is desirable that as in nature, they were all a little different in width and shape. And for the opened boxes with berries we need one sepals of 5 converging segments in the center of the same red color and one green sepals.
For berries we will need two circles diameter of 3.5-4 cm. If you have leather of various shades of red or leather of orange color, then it's better to cut out circles of different shades, so that berries were of the different extent of ripeness.
Make patterns of paper or cardboard, trace them on leather, cut carefully. Cut out three leaves — two smaller ones, one bigger and the calyx. Note that I added pedicels to the leaves when cutting out. They will close the wire and their length depends on how long the leaf leafstalk will be. You can leave it longer, you can always cut off the excess :) Process all our parts with PVA glue diluted with water.
Immediately form central folds for the sepals. I'm folding red blanks back side to back side, and the green one is folded in the same way to make central folds on the front side. Next, twist each segment in a spiral and leave to dry, so as the rest of the glue-treated parts. While our parts are drying, we make blanks for berries. Form two dense balls of cotton wool on a wire leg with a diameter of about 1.5 cm. Instead of cotton balls, you can take ready-made blanks or round beads of a suitable diameter.
Make one ball a bit bigger than the second one, so that our berries were of different sizes — more ripe one should be bigger.
When forming balls, you can try them on to our circles details – to see if we can fit them. When our blanks have dried up, but still a little damp, we can cover our berries with leather. Apply thick PVA glue or Moment glue and form folds at the base of a ball with tweezers or fingers (as it is convenient), stretching the leather. That's what we should be able to do. Gently untwist our dried, but slightly damp sepals, make a hole with an awl in the center of each sepal, pass through it a wire with a berry and glue with the Moment Classic or Moment Crystal glue, hiding the folds. While the leather is not quite dry, you can correct the shape of our sepals with hands and give the desired bend. Glue wire to the dried leaves slightly retreating from the upper edge of the leaf. Glue the wire to the segments of the future physalis, retreating this time about one-third from the upper edge, since the central vein in the living physalis is clearly drawn just about two-thirds (somewhere only to the middle) from the height of the segment. So that the wire did not detach in the process of wearing, it needs to be fixed with something. Since I am also engaged in silk floristry, I will take for this purpose strips of thin fabric used for gluing the wrong side of the leaves, and glue them with thick PVA.
You can glue the wire with a strip of leather, corrugated paper or silk ribbon of the appropriate color. Similarly, close the wire on the leaves. Also apply the moment glue to the pedicels of the leaves and fold them in half. Draw veins on the leaves with a heated soldering iron with a "Knife" nozzle, using a hard pillow. You can only do major veins or as I draw and smaller ones. The main large veins are drawn with great pressure, smaller are made weakening the hand. The tool is guided from the edges to the center of the sheet. These are the leaves we should get. It already looks really nice, you can leave it be like this, but I wanted to add volume. To do this, work out the leaves from the inside with a special nozzle. We conduct the tool from edges to the center between large veins already traced by a knife. In some places you will need to press a bit, making small holes. Well, that's different! :) Now let's move on to the processing of fragments of our future physalis. You can process them with a knife similar to the leaves, drawing the same veins, but I have a pointed nozzle and I used it to get as close as possible to the drawing of a living physalis. After processing all five segments, you need to prepare them for assemblong. I want the joints to be as thin as possible, so we take a knife-scalpel in our hands and cut a layer of leather along the edge of our segments from the reverse side, without damaging the front side. For this operation, be sure to use a special mat, so as not to spoil the coverage of the desktop. Be careful, watch your fingers! After we have prepared our fragments in this way, you can take acrylic paints and draw veins — in the finished form it will be more difficult to do. But you can also leave it as it is.
Now proceed to gluing. Glue the right side of one piece and the left part of the second and combine them. If you want to make a completely closed boll of physalis, then glue the fragments to the top.
I want to leave it slightly ajar, so I'll leave the tops free. Some of them will pinch with tweezers, as if folding in half, some wider fragments will cut in the middle just a few millimeters.
Gluing segments immediately give them the desired bend. So, adding one segment at a time, merge our "lantern" as a whole. Paint seams over with acrylic paint to make them look more neat, you can add orange at the top of our bolls.
All the pieces are almost ready to be assembled into a brooch. The leaves already have the neat stalks, we just need to get the stems of pur physalises. Wrap them in crepe paper and then wrap the leather back to back. Since our brooch will have one common stem, we need to cover the leather only to the place of their fastening. Assemble all our twigs in a brooch and fasten them with thin wire or thread. If you take a thread, then fold it in 3 to 4 layers, secure the winding and knots and with glue.
We will outline the length of the future stem and bend the extra wire. Cut off the longest tails with wire cutters. Wrap our stem with corrugated paper to even out the thickness and irregularities, and cover with leather overlap. It remains to attach a pin. Fasten it to our bouquet with wire or thread (secure threads with glue) and close the attachment points with strips of leather. Voila! Our brooch is ready!
It's time for a walk in an autumn park! If you have any questions — write, happy to answer :)
Enjoy your creativity!
DIYs & Tutorials on the topic