Video Tutorial on Needle Felting Central Asian Shepherd Dog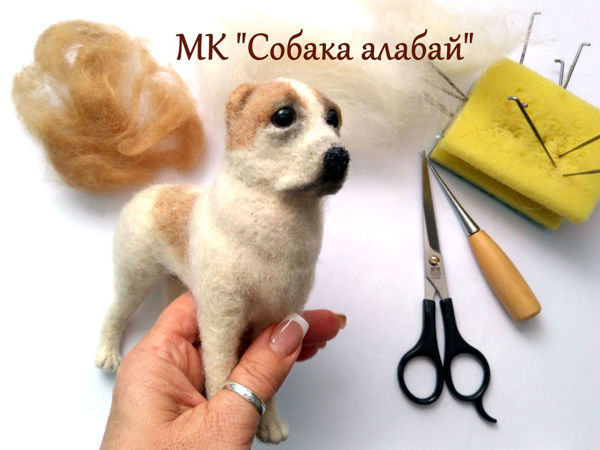 This is a tutorial on needle felting a Central Asian Shepherd dog created upon the volunteers' request from the Alabai Help center. Volunteers help Central Asian shepherds who became homeless for various reasons. With this tutorial, they will be able to make figurines of dogs for financial assistance to affected animals.
Maybe this tutorial will be useful to some of you.
To create our dogs you will need:
1. Needles for felting: a gross one No. 36, two of medium thickness No. 38, reverse needle No. 40 (for fluffing out).
2. Wool for felting of a natural unbleached color. In this case I had wool produced by the Kamteks factory, but you can use any wool for felting, this is not so important. Also you will need roughly 100 gr. of beige wool for spots and just a little bit of black wool – this is for the nose.
3. Wire with the cross-section of 1 mm for legs and tail frames.
4. Moment Crystal gel glue.
5. Awl, scissors, silicone fingertips are desirable, but not necessary.
6. Slicker, it will help us a lot in the work, but without it you can do too.
7. Eyes or two black beads with a diameter of 8-10 mm.
8. Dry pastel for toning a neb, it can be replaced with makeup shadows. We will need a dark grey tone.
9. Acrylic lacquer glossy.
10. Also a base is needed. I have a special felting mat. You can use a regular sponge for washing dishes or cars.
Having mastered this tutorial, you will be able to make figures of dogs in any position — sitting, lying, with a turn of the head and so on. Use the appropriate photos to watch the proportions. If you have any questions after watching, ask them in the comments below the video, I will answer.
I wish you success in your work!
DIYs & Tutorials on the topic