15 Ideas For Autumn Photos That You Will Definitely Want To Repeat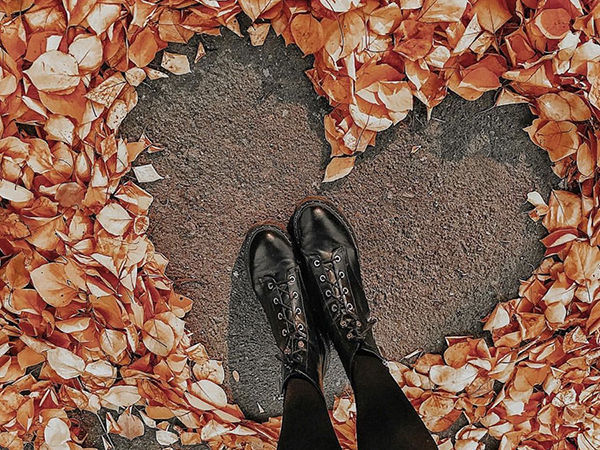 Autumn is a magical and such a fleeting time! The leaves on the trees will turn yellow and fly off before you know it, and the sun will be replaced by rain. And though this year my summer will last a little longer (a long-awaited vacation by the sea is coming, where I plan to implement the ideas from the previous collection), however, I'm ready to capture the autumn sceneries, make cozy layouts and pose on the carpet of fallen leaves :)
I surfed the Internet looking for creative and original ideas, and thus I hasten to share my findings with you. Some ideas are very easy to repeat, some require preparation. And this time I included not only portrait photos, but also examples for subject shooting. Happy viewing and get inspired!
1. Let's start with a declaration of love... for autumn
In fact, you can confess your feelings not only to the time of year, but also to your true love — the idea of laying out the heart of the fallen leaves is perfect for a romantic photo shoot. 2. Paradise for a perfectionist
This option is certainly not for the faint of heart! But it looks very impressive, don't you agree? 3. As through a telescope
A very interesting option for those who like to "play" with the perspective: take a leaf, fold it and put it to the camera or lens. 4. Let's talk about perspective once again
Perhaps this is the most popular technique – the transformation of small into large and vice versa due to the correct location of objects in space. So here are a couple more ideas to note :) 5. From landscapes to autumn looks
The maple leaf skirt looks charming! 6. And from clothes we'll come to accessories
In the summer we wove wreaths of herbs and wildflowers, well, in the fall, be sure to use the leaves, rowan branches and seasonal flowers — chrysanthemums and asters. 7. You cannot do without an umbrella in the fall!
And there are a number of reasons, in addition to the very obvious one :)
In my subjective opinion, this is the most labor-intensive idea — you need to collect leaves and glue the whole umbrella with them... But the result is worth it: 8. Personal leaf fall
If you know how to repeat this trick, please write in the comments! 9. Lighting the night
Idea for cozy & mysterious evening photos. Lights are never enough :) 10. I shall draw the autumn
Cute addition that will refresh any, even the simplest, photo: 11. Comfort is a cup of hot tea
Or coffee. Or cocoa. It's up to you :)
And note how the aesthetics is perfectly combined with knitted things — sweaters, scarves and blankets. 12. Not only November can be sweet
The smell of baked apples, cinnamon and raisins – that's what I associate with autumn: 13. Flatlay is everything
With leaves, of course. You can put them in a certain order or just scatter to maintain the mood. 14. Pumpkin is the Queen of autumn
Even if you do not celebrate Halloween, orange pumpkin will decorate any photo. And decorative pumpkin can be knitted, felted, sewn, embroidered — and used not only for photos, but also just in seasonal decor. 15. Fallen leaves drift by the window...
Most importantly – enjoy the process! Do not be afraid to fool around and laugh at the camera, because this is how you get the most sincere photos :) Put "Like", add the publication to your favorites and share your autumn photos in the comments!