30 Photos That Will Change Your Vision Of Favorite Movies Forever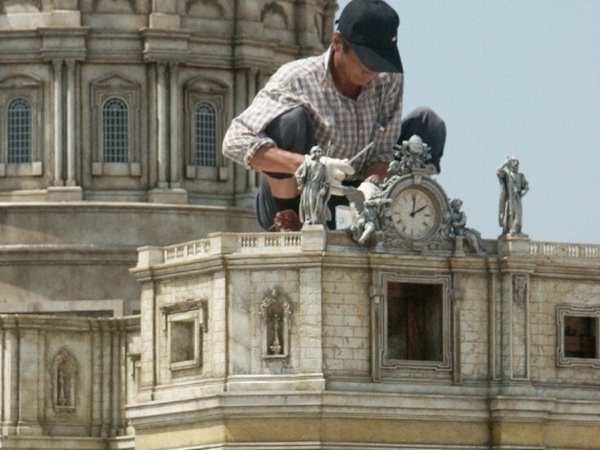 With the uprise of computer graphics, more and more directors use chromakey — a green screen for filming, which is then replaced by a desired background when editing. But in the beginning the creation of cinematographic scenery was a much more time-consuming process. Special artists were hired for the scenery making, it was built in miniature that would apper in the movie. These people usually remained in the shadows, though their work was just as important as the one of a screenwriter or a director! I suggest you to repair this injustice. Together, let us consider the works of set designers!
For example, here is the scenery for the "Godzilla" movie and its creators. That's how "Lord of the Rings" was filmed. And this is "Batman". The dark streets of Gotham are waiting for their hero... And this is the train and time machine from the third part of "Back to the Future". Standing next to a real car — apparently for a better understanding of scale :) To shoot "Escape from New York", they had to build another New York: And here's a shot from "Ghostbusters". It's not necessary to look for a giant, just make small everything else. For the filming "Indiana Jones", artists created whole miniature landscapes! And for "Blade Runner" not even one model of the city was built. As for the "Fifth Element". Old Superman movies were also shot using miniatures. And the Bond movies used miniature scenes: the scenes from the shooting of "Golden eye". And this photo is Steven Spielberg's "War of the Worlds" And how much effort was spent on the scenery for the first "Star Wars" films! Now the old special effects in these films seem naive and funny, but imagine how difficult it was to create them without the use of modern programs! However, and now they use real miniature scenery. To film general plans of "Harry Potter", they built a real mini-palace! And the palace from "The Grand Budapest Hotel", it turns out, is not real! Cartoon creators like miniature scenery as well: here's a funny shot from "Fantastic Mr. Fox", allowing to assess the scale. This is a photo from the creation of Burton's "Corpse Bride" So the cartoon "The Boxtrolls" was created. And this miniature city was built to create "Mary and Max" I think these guys are admirable! Their hard work helped revive dozens of fictional stories. What do you think?