Adorable Sardines & Baguettes In Love: Knitted Food by Kate Jenkins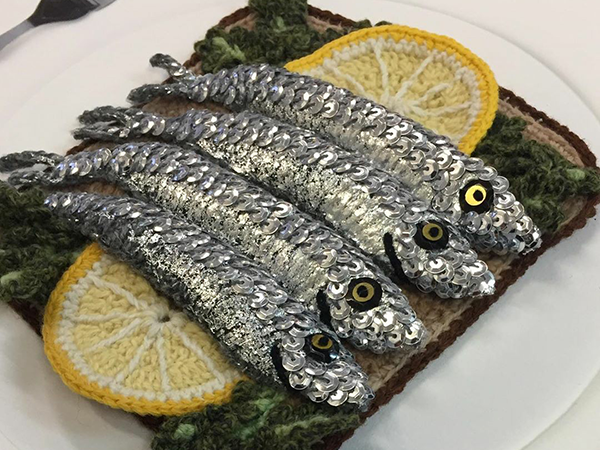 Kate Jenkins is a British needlewoman well known around the world. You've probably seen some of her provocative works. Knitted French fries or a box of frogs, and once even a whole hotel room, consisting entirely of knitted things, including a toothbrush - these are all Kate's projects, filled with subtle humor and love for the beauty of the everyday life around us.
Kate became interested in knitting at the age of eight, and she says the passion has never waned ever since. It is even easier for a craftswoman to create objects from yarn than to draw them. She was educated in fashion and textiles, made a successful career in the design of knitwear — even collaborated with Ralph Loren. But in parallel, Kate continues her "little" art and comes up with all sorts of food compositions.
Recently it has mostly been baking or canned fish and seafood :) And here is freshly knitted bread :) At first I thought that only baguettes are fake here: But no, Kate knits everything! Little cakes: And even a classic banana Nutella sandwich. Do you make them too? Here's Kate. I'm just fascinated by her smile! Did you like this interpretation of reality? Are you close to the humor of the artist? Share in comments :)