Decorating ''Leaf'' Glass Panel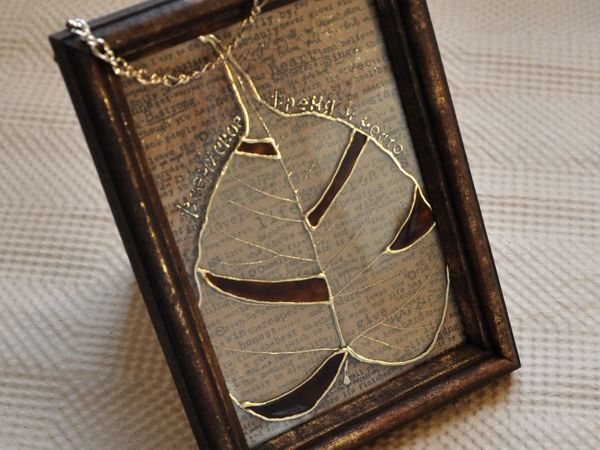 It all started with a flash mob.
"Flash mob is a pre-planned mass action in when a large group of people comes to a public place, performs pre-specified moves (scenario) and then goes away."
In our case, flash mob is a simultaneous decoration of glass with leaves silhouettes.
Conditions were very simple.
"Creating something incredibly beautiful.
Working with glass.
Drawing a leaf image on absolutely any glass (transparent plastic). Drawing with contour, handmade contour paste, even ink! Or you can lay out paper or clay canes, or rope, even matches!
Part of the image is filled with paint for glass or ceramics. Actually, you can choose anything, including oil.
Part of the image is transparent.
Another part of it is decorated from the inside — with absolutely any material!
This can also be seasoned with additional accessories! Any.
The main thing that it is unusual and beautiful!»
My stages of work turned into a small tutorial on glass decoration.
So.
As a starting material, I took a skeletal leaf. First of all, I decided to highlight leaf veins with gold decorative foil. Special glue-gel is used for it. It allows (thanks to thick consistency) to create a 3D decor.
Firstly, I applied a thin layer of glue on the veins, let dry and pasted foil on it. I was going to insert the leaf in an ordinary wooden frame. But it was of a not really nice orange colour.
So, I also covered it with some metal foil, then applied dark brown paint over the entire surface and wiped it with a cloth gently to show the foil. I liked it better that way. I took cardboard out of the frame and pasted a piece of tissue paper on it. This is what it looked like after combining with the leaf. At this point, I decided to turn it upside down.
I fixed the leaf with glue only in the centre. Then I put glass on the leaf, contoured some sectors with glue-gel and foil. It turned out very nice and volume. But I wanted to create an even greater illusion of volume.
I put the glass aside, but worked with the tissue paper a little.
Namely... I shaded the leaf around the perimeter with a coloured pencil. It was always interesting to combine two parts of the panel-leaf and glass. Then I wanted to make an inscription, repeating leaf contour. I made it! With an ordinary thin brown felt-tip pen. For the inscription to be less contrasting and visually heavy (because it is located at the top of the panel!), I used foil and glue on letters. At the same time, I added a golden stalk to the leaf. Finally, I came back to work with glass — I poured brown paint on glass sectors. And combined two parts again. Now you can insert everything in the frame carefully, cover the back with craft paper and attach hangers with a chain. That's how this panel was born — few materials — maximum of decoration.
I think, it turned out a very nice wall decoration. Thank you for your attention!
DIYs & Tutorials on the topic