Making Parrot Brooch from Polymer Clay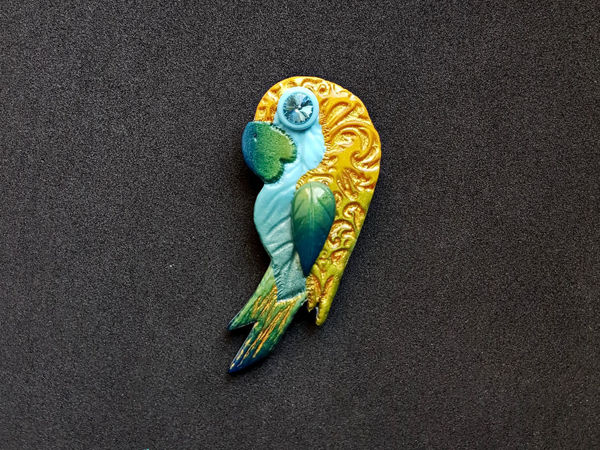 If I'm not mistaken, this week is devoted to parrots. Livemaster has lots of parrot jewellery. There are different variations, one is more beautiful than another :)
I decided to offer my own parrot brooch too.
For this I needed:
polymer clay of different colours(yellow, green, blue, turquoise, blue);
texture sheets;
vinyl cutters;
blade, awl, scalpel, pasta machine;
acrylic paints, varnish;
pin base, Swarovski crystal.
To start with, I prepared two polymer clay canes of different colours. I rolled them to the desired colour transition and made them textured with texture sheets. Then I put the pattern on the layers with an awl and contoured. With a scalpel, I cut along the contour carefully. On another piece of polymer clay (I had it blue-green) I made texture with corrugated paper. I cut the tail out of it. I made a beak from smooth part of the same polymer clay. Next, put the parrot on a working layer of polymer clay and smooth everything carefully. From the same polymer clay that I used for the tail and the beak, I made a convex wing with the help of a cutter. I added an eye of blue Swarovski crystal and carefully cut it out. Send it to bake. After baking, put the pin, closed with another layer of polymer clay. After the second baking, I covered it with some patterns with golden paint. You can do without it, but I wanted to highlight the pattern. Then, I sanded and varnished.
That's what happened in the end.
Charming, pretty small, delicate foliage parrot. Very light and even elegant Thank you for your attention!
DIYs & Tutorials on the topic