Making Box from Newspaper Tubes and Cardboard with your own Hands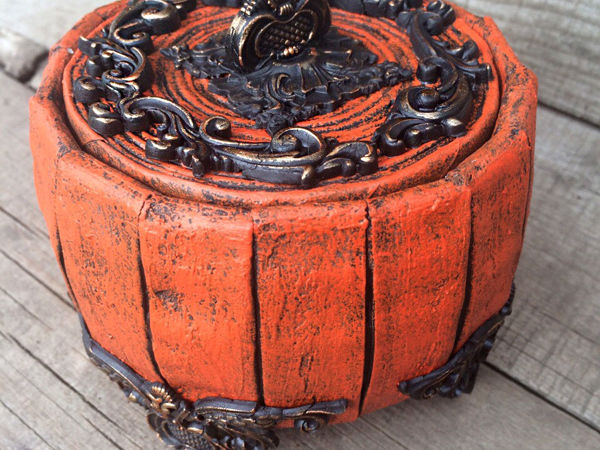 In this video, I will show you how to make a box from newspaper tubes and cardboard with your own hands.
This time, we will make tubes from the old books as I tan out of newspapers and magazines. I needed two circles of tubes for the lid and the bottom of the box.
The walls are made from cardboard. To make them more rounded, I glued several layers and covered it with longitudinal strips of paper.
I applied putty on the top and left to dry overnight.
I painted it with acrylic paints in black and orange.
I still use moulds by Prosvet Art Studio.
I grease them with oil (vegetable) and fill them with cold porcelain. I make it from starch and glue. You can use any starch, but be sure to use joiner`s glue.
This time, in order not to paint the finished form, I mixed black paint with the mass immediately. When it dries, it darkens by several tones. Therefore, it does not matter if you get a dark grey mass.
I glued to the base with PVA glue and left for a day.
Now it remains to wait for the box to dry completely and you can use it. It will dry completely in about a week.
Stay inspired!
DIYs & Tutorials on the topic