''Gone Beauty'' in Photographs by Olga Shirnina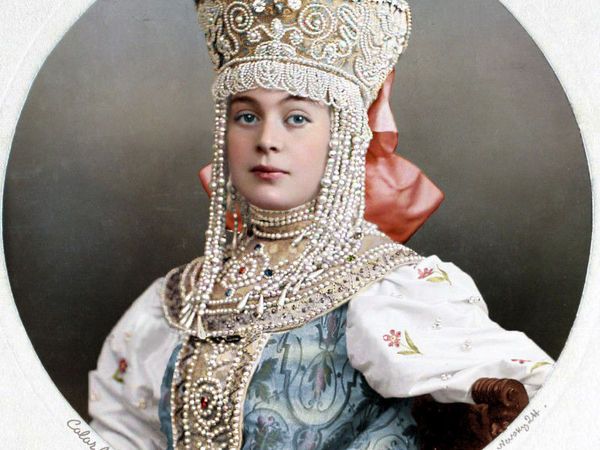 "Gone Beauty in Coloured Photos by Olga Shirnina"
I like to look at old photos. They witnessed our past, so different, but always mysterious, covered with legends. In search of new photo stories about the past on the Internet, I found photos dedicated to the Romanovs costume ball in 1903.
The photographer from Moscow, Olga Shirnina, painted them. So now, they amaze not only with the beauty of female faces, but also with rich decoration on fancy dresses.
A bit of history.
In 1903, the Royal family hosted a masquerade ball and 390 guests were invited. According to the decree, guests had to wear costumes of Tsar Alexei Mikhailovich era ("pre-Peter-the-Great time"). Ladies wore sundresses and kokoshniks, and gentlemen were in costumes of the boyars, the streltsy, or falconers.
Saint Petersburg had not seen such a gorgeous festival over the entire reign of Nicholas II. The nobles of the Russian Empire gathered in the Winter Palace to celebrate the 290th anniversary of the Romanovs. Participants of the masquerade were dressed in ancient national costumes, studded with gems, pearls and diamonds.
These outfits were created in advance according sketches by artist Sergei Solomko under consultants` guidance. Luxurious costumes, richly decorated with rare furs and precious stones, cost their owners a fortune. Several outfits survived and are now in the funds of the Hermitage.
The tsar regarded the ball as a step towards the revival of rites and clothes of the Moscow court. But the tradition was not destined to revive due to further tragic events that turned the entire political, social and cultural life of Russia up side down: first, the Russian-Japanese War, then the Revolution of 1905 and 1917.
However, that unusual ball went down in history due to the preserved photos. The ball lasted 2 days. The best St. Petersburg photographers took photos of the guests. These pictures compiled a special "Costume ball in Winter Palace Album."
Enjoy gone beauty, captured in old photographs, painted by Olga Shirnina. Zinaida Yusupova Countess Sofia Alexandrovna Ferzen, nee Princess Dolgorukaya Guest at the ball Alexandra Fyodorovna Portrait of Countess Olga Konstantinovna Orlova Nicholas II and Alexandra Feodorovna Nicholas II Maid of Honour Countess Elizabeth Alexandrovna Sheremeteva Elena Nikolaevna Bezak (Shipova) Cornet of the Mounted regiment A. A. Kolyubakin in falconer`s costume from Tsar Alexei Mikhailovich era Zinaida Yusupova Ekaterina Ilyinichna Tatishcheva (Bibikova) Maid of Honour Daria Mikhailovna Bibikova Princess Ksenia Alexandrovna Countess Maria Alexandrovna Keller, nee Princess Shakhovskaya Countess Elizabeth V. Musina-Pushkina, nee Kapnist Maid of Honour Baroness Emma V. Fredericks Maid of Honour Princess Varvara Alexandrovna Dolgorukaya Maid of Honour Baroness Emma V. Fredericks. Maid of Honour Princess Varvara Alexandrovna Dolgorukaya Princess Zinaida Nikolaevna Yusupova Princess Vera Kudasheva, nee Countess Nirod Maid of Honour Princess E. V. Baryatinskaya Mademoiselle Natalie Zvegintseva Countess Natalia Feodorovna Karlova, nee Vonlyarskaya Guest at the ball Guest at the ball
Be healthy and happy!