Creating Card in ''Pressed Floristry'' Technique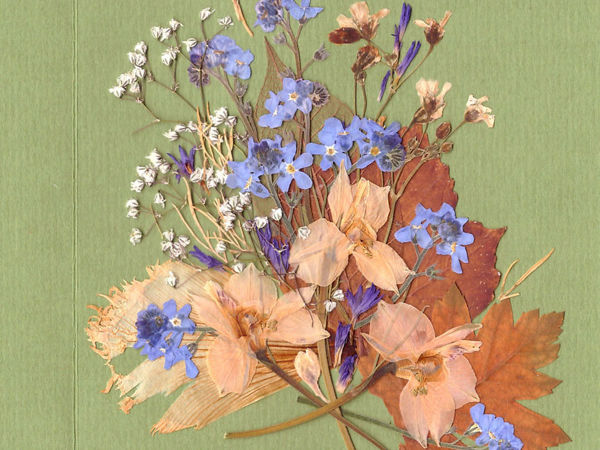 Do you know what oshibana is?
I am fond of this art and want to share it with you.
In Japanese, oshibana is art of creating paintings from dried plants.
This type of creativity has several names: "Pressed Floristry", "Planar Floristry", "Oshibana", "Plants Painting".
For you to get to know oshibana, I present you a short (introductory) tutorial on creating a card with dried plants. Such cards show sympathy, delight and affection. 1. Basis. You can buy a special card blank, or cut it yourself from thick paper. Colour pastel paper is suitable for such a purpose.
I have an olive green blank with a square window.
2. Firstly, you should make a composition of plants. Take flat-dried plants only with tweezers.
For convenience, I cover the workpiece with glass, and I place different options to choose the most beautiful and successful. Sometimes everything happens quickly, but most often you spend much time to choose materials accurately.
I lay out beige brown autumn leaves as a background for the bouquet. The background makes it deep and volume. Place flowers: forget-me-nots and small bright flowers. I take white baby's breath to make the bouquet ornate. For the lush bouquet, I add three beige flower spurs. At this stage, it is enough to lay out a composition on glass, because the main part of the composition has already appeared.
You can begin to glue the plants to the base.
PVA glue is the only suitable option!
I remove everything from the glass carefully. I start to glue the leaves. It is convenient to apply glue with a toothpick.
Do not apply much glue on the whole surface. Apply a bit on the middle.
Having glued the background, proceed to the flowers. Carefully, apply glue in dots to the middle of the flower, apply to the base and press with a cloth, removing excess glue.
Having glued everything that was on the glass, I turn to details.
I love complex compositions with many small details.
I add forget-me-nots and blue petals for colour game. A few more details. The bouquet became more magnificent and luxurious. Well, that's probably enough. Overloading the composition is not good either.
For the card not to wrinkle, put it under the press.
For this, take a heavy book. Be sure to place the card between two sheets of white paper not to get book letters on the card, and not to spoil the book with glue.
Well. You're done! I will also add a nylon ribbon to make the card more elegant. Isn't it beautiful?
Did you like my tutorial? Press "like" button.
Thank you for your attention.
DIYs & Tutorials on the topic