How to Make Desktop Organizer from Paper Cores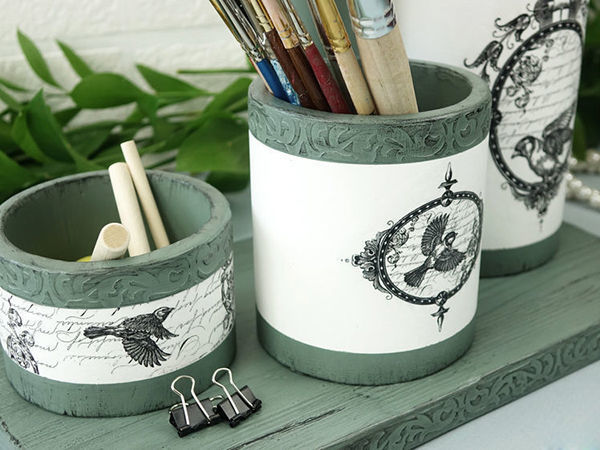 If all your brushes and pencils always strive to escape from the desktop, then it's time to make a perfect organizer. Sometimes, cleaning the shelves, you can find materials perfect for this thing!
For example, thick cardboard cores from transfer brass leaf.
How to turn them into an organizer? — Watch our new tutorial!
For work, you will need:
• thick cardboard core;
• wooden board;
• sandpaper, a saw (if needed);
• gas can for firing;
• wire brush;
• acrylic primer for restoration;
• white acrylic paint;
• acrylic art glossy lacquer;
• printing on a laser printer;
• plastic file, wet wipes;
• stencil;
• fine embossed paste;
• palette knife, brush;
• acrylic paint (Slava, khaki, Indigo, black);
• acrylic matt lacquer;
• glue for wood.
DIYs & Tutorials on the topic