Packing Handmade Ceramics to Send by Post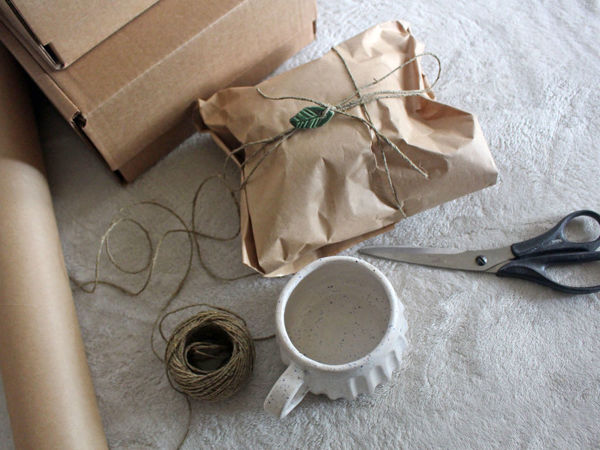 When an artisan creates a piece of pottery, he/she has a question of how to send it by post. Of course, post office or delivery service staff will not pay special attention to your parcel. Therefore, high-quality packaging is a key to successful delivery of a product. What is important, it is a satisfied customer :)
So, I'll tell you how I pack my work. This will be useful for both artisans and buyers as they will understand in what form exactly they will get their purchase. The first layer is an air bubble film. Wrap fragile elements - handles, spouts, decor - separately. Fix it with tape.
Then comes the final packaging stage (that is, if you, for example, give the product, it is assumed to be like that).
I have craft paper here. It is fixed with tape. Next, I form the bundle with a jute rope or henequen. It also houses a mini-souvenir and business card. Simple, but atmospheric — as expected for handmade work :) If a product is delivered personally, then that's all. No more packaging is required.
If sending it by post, the parcel is placed in a shipping box and on all sides of the void filled with polystyrene.
Box: standard self-assembly (it is important that there are no inscriptions).
Polystyrene filler: I order wholesale bags. Not only functional, but also cute things :) That's all. The box is sent to the post office, where it is fastened with their branded adhesive tape. Please note that your tape or glue can not be used! Glueing "fragile" sticker makes no sense. Quality packaging means much more. DIYs & Tutorials on the topic