How to Distinguish Genuine Leather from Fake: Myths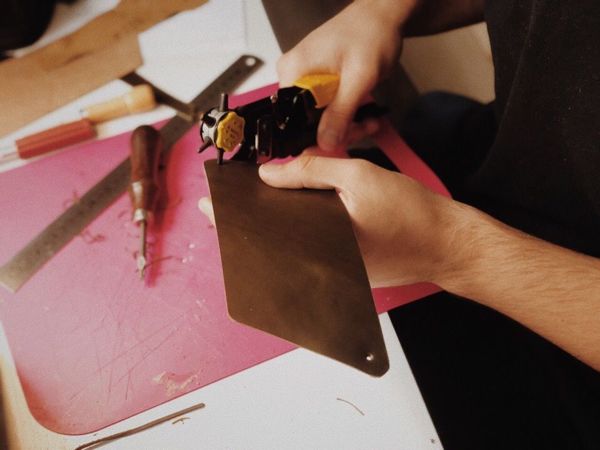 Leather curve changes colour when bended in half
No. There are many leather types with a certain wax coating, such as Crazy Horse, Pull-up, Flor-up and others, which just tend to change colour when bended and stretched, which is their feature.
Genuine leather always has faults that prove its natural origin
In most cases, leather is subjected to finishing, one of the directions of which is masking faults. It is made in order to increase the area of useful leather, as well as its type. That is why faults` absence is not a sign of artificial origin of leather, and high quality of raw materials. In addition, leather faults do not often make a finished product beautiful, so artisans try to avoid them.
Leather cut should have many intertwined filaments, because leather structure consists of bundles of intertwined collagen fibres. If we see a fabric base or nothing instead, leather is definitely fake
Alas, now high-quality artificial leather is made on substrates that mimic genuine leather, and therefore in most cases, even an experienced person may think leather is genuine.
The back side of leather should be velvety, nappy and change colour from contact with hand
You can observe this effect only on a front surface of nubuck leather type. Besides, flesh side always points at genuine leather. But a "mesh" on the flesh side after vacuum drying may often confuse anyone. Double Face leather doesn't have fibre flesh side at all, because it is covered with polymers. Well, if a product has a lining, you won't even get to the flesh side. Only genuine leather has its peculiar smell
No, no and no. During production, leather absorbs many chemicals, workshops` smell, industrial premises, warehouses, shops — in general, everything. That is why chemical smell should not scare you and lead astray, especially since currently there are even natural leather flavours to make fakes smell of real leather. Mereya pattern on genuine leather should have a unique texture, like a fingerprint. This pattern is arbitrary on genuine leather, and systematic on artificial leather
When producing, the front leather surface is corrected by being pressed with special plates or shafts, making mereya pattern even and clear. Moreover, genuine leather gets different surface textures, imitating exotic animals, for instance. Genuine leather does not burn
But polymer coating on leather burns. Artificial leather has the same coating as well, but it differs in thickness of application and some features of the material. One of the main indicators of naturalness is a small piece of leather on the product
On products, this piece is often absent, which is not an indicator of leather abnormality. More often this piece on the product is the only natural thing. When touching shoe leather for more than 10 seconds, genuine leather heats up and returns heat to hands, while artificial leather is cool and gets a misted stain on its surface
Much depends on leather finish and materials used in it. There is a great variety of fretboard modifiers (touch), which give finished leather surface specific organoleptic properties.
Genuine leather absorbs moisture and darkens in water-drop place, while artificial leather does not change
Most leather finishes, not to mention hydrophobic (withstands water for several hours), are resistant to short-term exposure to moisture. If it were like the "experts" say, we would walk either with wet feet under the rain, or in shoes made of artificial leather or rubber.