How to Make Mini Candles for Roombox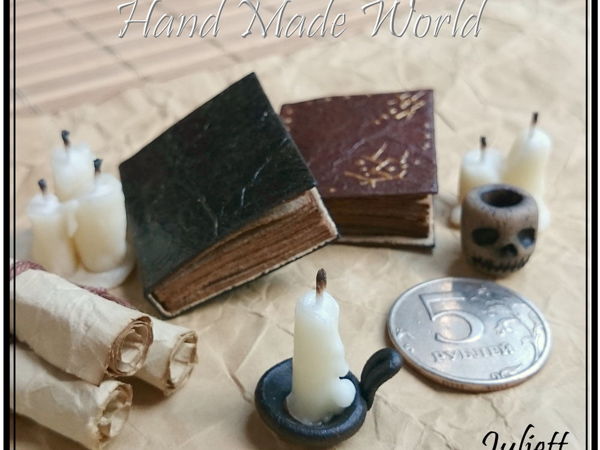 When I was creating Witch`s locker, I really needed mini candles. Candles made from polymer clay looked not wonderful, besides they are the main attribute of the Witch, and therefore they must be real! :)
I've never had to deal with candles before, so I'm a complete zero in this field. But I had the idea to use ready-made, but slightly used cake candles. As I wanted white candles, I took a knife, I cleaned them from coloured layer. Also, I exposed the wick from the other end in order to split them in halves. Candles turned out to be just of the right height. But I wanted them to be wider, and the surface was uneven after scraping. In order to make them even and more volume, I took a white candle. I crumbled it. Then I melted it in a water bath in a ladle. It is important to use utensils and objects that will not have contact with food in the future. Next, after removing the ladle from the water bath and using round-nose pliers (I lost my pliers somewhere), I began to dip the candle in melted wax. Then I put them on a plate, specially prepared for this and while one by one I dipped all the candles, the first already had time to cool down, which allowed me to repeat the first step. I did so on until I got what I wanted. In my case, 3 times was enough.
If in the process of building up wax on the candle, you have spoilt the form, then after cooling (while it's still not completely cooled down), it is possible to press it with fingers. In warm state wax is molded like plasticine.
Well, here is a candle and you're done! :) Now you need make them look like "used" candles :)
Fix them on a plate, dripping a few drops of melted wax. Set fire. Wait until the candles burn a little.
Here we go! I think the Witch will be delighted! :) Thank you very much for your attention! :) Good luck!!!
DIYs & Tutorials on the topic