Batik Tutorial: Music of Silver Age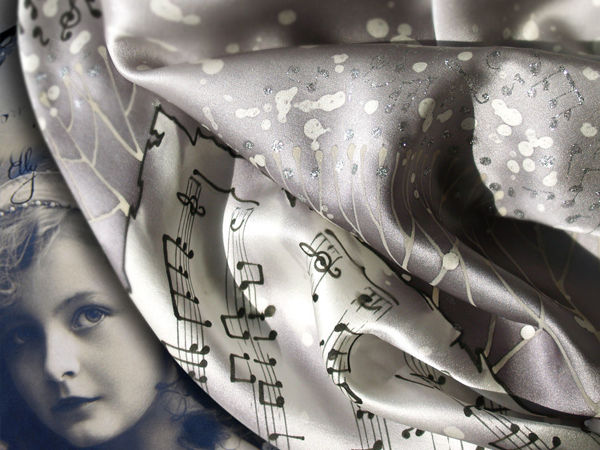 I invite you to plunge into wonderful world of batik! Painting on silk gives many positive emotions and joy. Therefore, I propose to spend time with pleasure and paint a kerchief in noble silver-smoky shades. You will need inspiration, a little patience and soon you will create this kerchief! 1. Take natural silk (I have light satin 70×70 cm) and pull on the stretcher with a stapler. To get a smooth piece of silk, it is enough to pull out a few threads and cut off along the resulting line. Not stretched edge of high quality is guaranteed. Cover the stretcher with masking tape beforehand. 2. Draw a sketch. I have notes drawn randomly, but you can display your favorite melody! If you do not want to draw, use the ready-made template, the file with the layout is attached to the tutorial. 3. Transfer the picture on silk with a soft pencil (put your sketch under the silk). You can use a phantom felt pen, a pin-sublimate, but it is not necessary. 4. Now proceed to the most jewellery part of the work. Line up the stave. To do this, take a black marker for fabric (I have Marabu 1-2 mm) and a ruler. It is important that the ruler is located slightly above the fabric (see photo). Light, fast movements, barely touching the fabric, draw lines. I suggest practicing first. The main thing is not to press the marker on the fabric to avoid rough, thick lines. Let the line be intermittent, it will add lightness to the drawing. 5. Next step. Take a glass tube and a black reserve. Reserves are based on gasoline or water, I prefer gasoline. Draw notes and trace the edge of the paper. 6. Draw trees branches. With the help of a centimetre tape or ruler, plan a pencil circle with the centre in the corner of the stretcher. Diameter 34 cm. Take a white reserve or contour, randomly draw branches. (I use white reserve). 7. Now let's get to know hot batik technique. In a water bath, in a tin jar melt paraffin. With the help of brushes spray all over the background as you like! Work quickly for paraffin not to get cooled, if it begins to thicken, you need to warm it up again. 8. Proceed to fill the background. With a wide brush, moisten the whole background with clean water and go from light to dark grey with smooth transitions.The darkest colour should be at the edge of the paper. Dilute black to light grey and gradually saturate to the desired result. To make the background with a silver tint, the black dye should not go into a cold blue shade. The paper is painted with the effect of light scuff and dented, but in general, it is lighter than the background.
I use prescriptie, professional dyes for silk, requiring fixation with steaming. The process is time-consuming, but the result is worth it. They are perfectly kept on fabric, the colours are bright and do not weigh down the fabric. In shops for needlework, it is possible to buy paints that are fixed with iron, but I don't work with them therefore I won't give advice. 9. Now let your imagination flow and decorate the kerchief with fine decor with a contour for fabric (I use Dekola with silver sequins) and black reserve. 10. The kerchief is painted and you are ready to remove the paraffin. The process is very simple. You`ll need old newspapers, better black-and-white ones and iron. (completely new newspapers, if they are coloured can stain fabric). Lay out newspaper on the ironing surface, put a kerchief on top of another newspaper. Choose the highest temperature and begin to evaporate wax. Change newspapers from top and bottom, until there are no spots of wax on them. It took me 10 sheets of newspaper. You will have wax spots on silk, but don't worry, after steaming they will disappear. 11.The kerchief is almost ready. Fix the dye, wash and treat the edge (by hand, blanket stitch, role seam, or baby hem). In the next tutorial I will tell you how to fix paint.
This tutorial participates in the competition, if it was interesting for you, please support by clicking "like" button.
Thanks in advance! I wish you all endless inspiration and joy!
DIYs & Tutorials on the topic