Creating ''Melody'' Soutache Pendant with Swarovski Crystals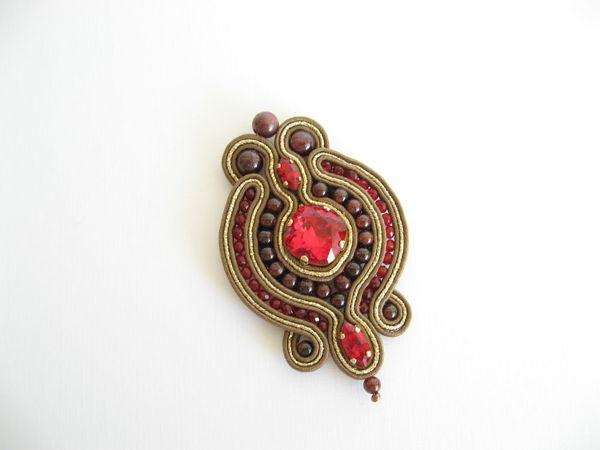 This is my first tutorial. I did not plan to create it, but the contest "Musical Pause" inspired me. I suddenly realized that music is really inspiring, and I want to "create".
Everyone has a muse. Mine is music performed by Joe Dassin. Joe Dassin has an interesting biography. Ethnologist by education, he became an artist with a worldwide reputation. Songs by him became hit singles, though he often performed new songs. "Salute", "Et si tu n'existais pas" — probably everyone knows. If they sounded in my head, then the creative process has begun.
So, to the point. Soutache embroidery is not tricky for those who know how to sew or how to work with a needle. I love everything: to sew, embroider, knit, create jewellery. Embroidery is always exclusive, it makes any work unique. I set myself the task of creating a simple, flat, hard pendant. Let`s start. In the photo you may find everything you need for work:
hard soutache, 3 pieces of 20 cm and 3 pieces of 30 cm, brown and gold;
Swarovski crystals 12 mm, 10×5 mm, 8×4 mm in frames;
garnet beads, 3 mm and 5 mm;
faceted red beads;
fishing line, needle, scissors, super glue. Take 3 pieces 20 cm long and sew the crystal 12 cm around (in the frame there are holes), fasten the laces through the beads and add the top of the smallest crystal 8×4 mm. Sew around the same way, fasten and set aside. The first element of the pendant is ready. Proceed to the second element. Take 3 pieces of 30 cm and sew the crystal 10×5 mm around, do not forget to sew the bead in the centre (fix with a bead). This is the second element. It's time to connect the two ready-made elements. Connect them, using 3 mm garnet beads. I sew slowly, the tempo of the music, "If it weren't for you" with pleasure. Having sewn garnet beads, bend the soutache and continue stitching back with red beads. Make out the lower part of the pendant, rounding with pomegranate beads 3 mm. Go to the top of the pendant. Make rounding with pomegranate beads 5 mm and sew the bead on top. It is possible to insert the thread for the beads. Now is the most interesting part — the inside of the pendant. Make out as you wish, sew laces, attach them to the main part of a pendant for everything to be tight, apply glue on the ends and sew. Here is the result from the inside. In the top bead, you can insert the thread and strung garnet beads or come up with something else. "Salute"
DIYs & Tutorials on the topic