How to Make Mini-Books from Cardboard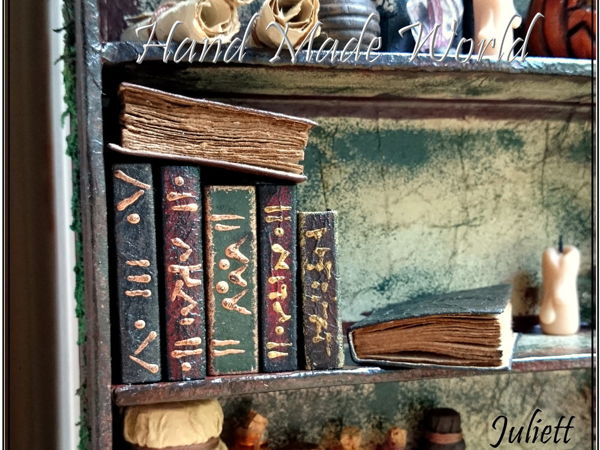 Internet has a lot of tutorials on creating mini-books. But mostly they deal with full-fledged books with firmware pages. But I did not like it, time of creation as well as overall look. So, I remembered how once I faced layering of a dense cardboard. At that time it upset me, but now it turned out to be the best option for creating a miniature.
To make a mini-book you need a dense cardboard. I have grey, and it is 3 mm thick. Cut out cardboard rectangles (or squares, depending on which book you have) of the right size. In the photo rectangles are 3×3.5 cm. Number of rectangles will depend on how thick your book is. As I need it 6 mm thick, respectively, two rectangles will be enough. Glue them together. I use superglue, though you can probably take any glue for cardboard. After the halves are glued, you will need to delaminate the cardboard, so that you have the pages of our book.
Since I needed old books, respectively, the pages had to be aged. To do this, I used a strong brew, or you can use coffee.
Place a rectangle in a container of liquid, so that it is well soaked. It is better to impregnate a rectangle from three sides, leaving a "cover" side. When the cardboard is already soaked, it must be gently squeezed to remove excess liquid. After that you can start delaminating carefully. To begin with, you can gently bend it in different directions, and then with an ordinary awl, divide it into pages. After the separation of the pages, we let the book dry. After completely dry (I left overnight), you get such a blank. In order to arrange the pages in a full book, it remains to add cover.
To create the cover I took thin cardboard. I marked out size, adding 1 mm, and cut out. Try on the cover, and if you are satisfied, begin to decorate it. I just glue the cover with crumpled paper and then paint it with acrylic paints. After the cover is completely ready, I glue it to the blank with the pages. Thank you very much for your attention!!! :) Enjoy your creativity!!!:

DIYs & Tutorials on the topic