Difficulty: Very easy

Materials:

fabric

,

hollow fiber

,

black beads

,

tapes

,

decor

,

cinnamon stick

,

wooden bead

,

scissors

,

needles

,

sewing thread

,

sewing machine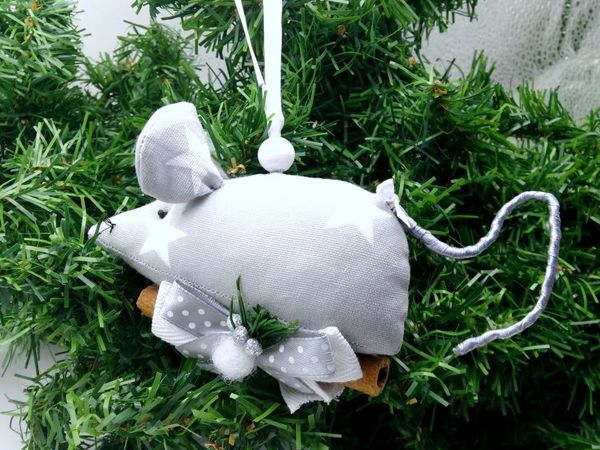 I offer you to sew a fabric mouse. It will be a Christmas tree toy.
For sewing, you will need a small piece of any cotton fabric.
Fold the fabric in half and transfer the pattern on the fabric. On a pattern it is noted, how many and what details need to be cut out, and do not forget in places for turning out to leave more fabric.
If you work with a pencil, do not press much. Pin the details and stitch on the machine. For the ears, you can take two different fabrics. In my case, I cut out one half with a star, and the second half is grey, the fabric pattern allows you to do so. The bottom has one detail. Apply, back side to back side and sew. Only then cut off the back of the fabric that protrudes. Turn out the details. Staff the carcass with filler and sew the hole with a secret seam. Leave ears unstuffed. Fold the ear in half, sew the middle and sew it to the carcass with a hidden seam.
Embroider nose with black Mouline thread, make a moustache. Put the needle through one side and pull out, leaving thread from another side and fix it with a knot, repeat several times, cut the ready antennae.
Sew two black beads parallelly — these are eyes.
For the tail we need 28 cm of any wire, 5 mm wide ribbon and glue. In this case, my tape is more than 5 mm.
Fold wire in half and scroll, leaving a small loop. Start at the end where there is no loop. Drip a drop of glue and wrap the wire along the entire length and sew. If you have thin ribbon, you can carefully close up the loop, sewing with a ribbon, I did not have matching narrow ribbon and thread, therefore I tied a tiny bow and used glue gun.
Decorate the mouse with cinnamon stick, bows, different decor. On the middle of the bottom glue cinnamon stick. Glue two different bows around it and decor. On top, sew the loop, and pin up to check the balance. Decorate with a wooden bead.
The size of the mouse without decor is 6×12 cm. Such mice can be made from fabrics of different colours, instead of a cinnamon sticks use a clothes pin, a lump or just a twig. DIYs & Tutorials on the topic