Loyalty in the Eyes: Realistic Felted Pets by Eve Teras
Category: Ideas & Inspiration
Practices: Felting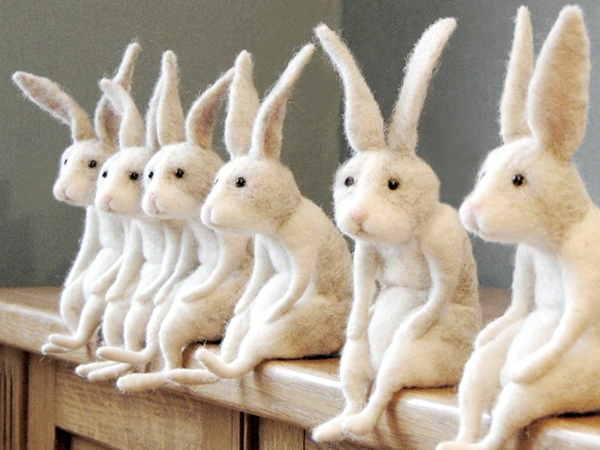 Eve Teras started felting about seven years ago. At first, she made simple chicks and rabbits, then Eve came to more serious woollen sculptures — polar owls, crows, portraits of animals. Sources of inspiration for Eve are beautiful landscapes and fluffy animals, most of her works are different dog breeds. But there are a few characters, famous throughout the Internet, about them I'll talk later. Dogs are the first. I think Eve surprisingly accurately conveys their posture and mood, and, most importantly, trust and loyalty in the eyes. Dog mobile: Infinitely touching creatures that really awaken the best feelings!
Eve also has cats: Box with touching lambs: She also has a charming penguin and a raccoon: But these characters are really famous on the Internet! Tired, stooped a little desperate rabbits — I have read so many comments about them. "Queue in the military commissariat" is one of my favorite :) Why do you think they're here and what are they waiting for? :) What toys do like the most?