The world of handmade textile dolls has a rather wide classification, among which is a category of "primitive dolls". This is a kind of textile dolls, created upon the simplest patterns, without using complex technologies and without strict requirements for perfection. In colloquial speech, the name of these dolls sounds short — "primitives"... there is also some semantic implication.
But some dolls in this category, despite "neotechnology", and in some cases due to it, give possibilities to enrich perception, meditation, and fill gaps of your personal horizons. Yes, yes, that's right! :) Everything depends on the message, conveyed by the artist, who creates what is called "primitive".
Ksenia Bazhenova lives in Omsk, who struck me with her intellectual primitives. Ksenia continues a kind of series of "Life of Remarkable People" in textile version, and really well-known (and not very) people look at us.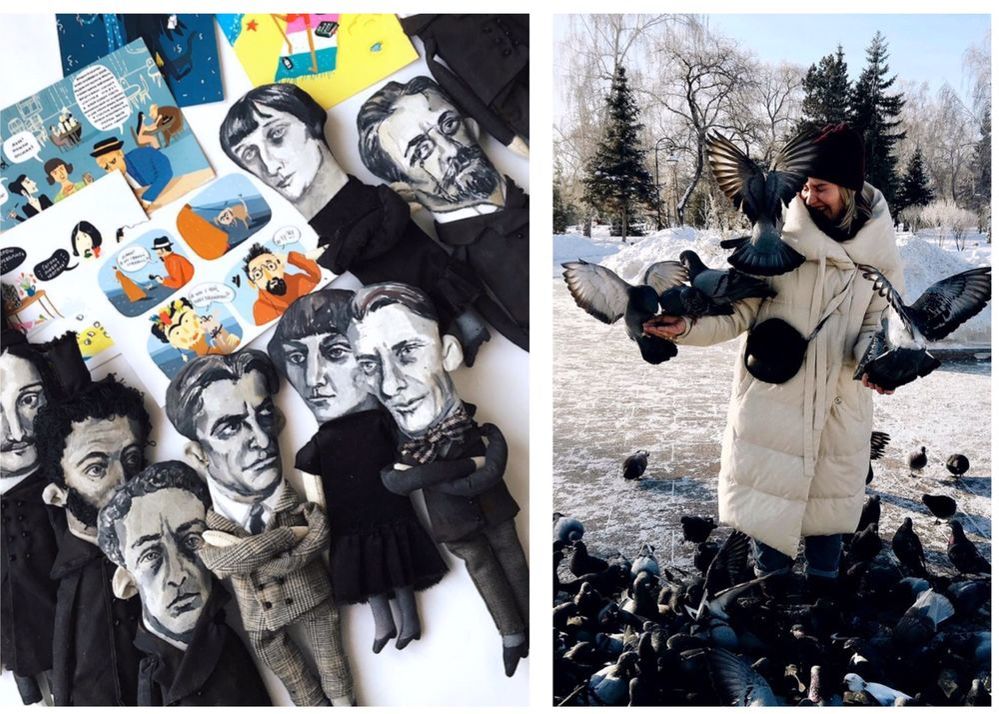 For me, the creativity of Ksenia has made a great impression not only great skill and the very idea, but also the degree of immersion in the subject... not every girl in our time pays tribute to poetry, for example, to Boris Poplavsky or Elena Schwartz.
Inspired by the poetry by Boris Poplavsky, Ksenia took part in the exhibition... the children of the Russian revolutionary period.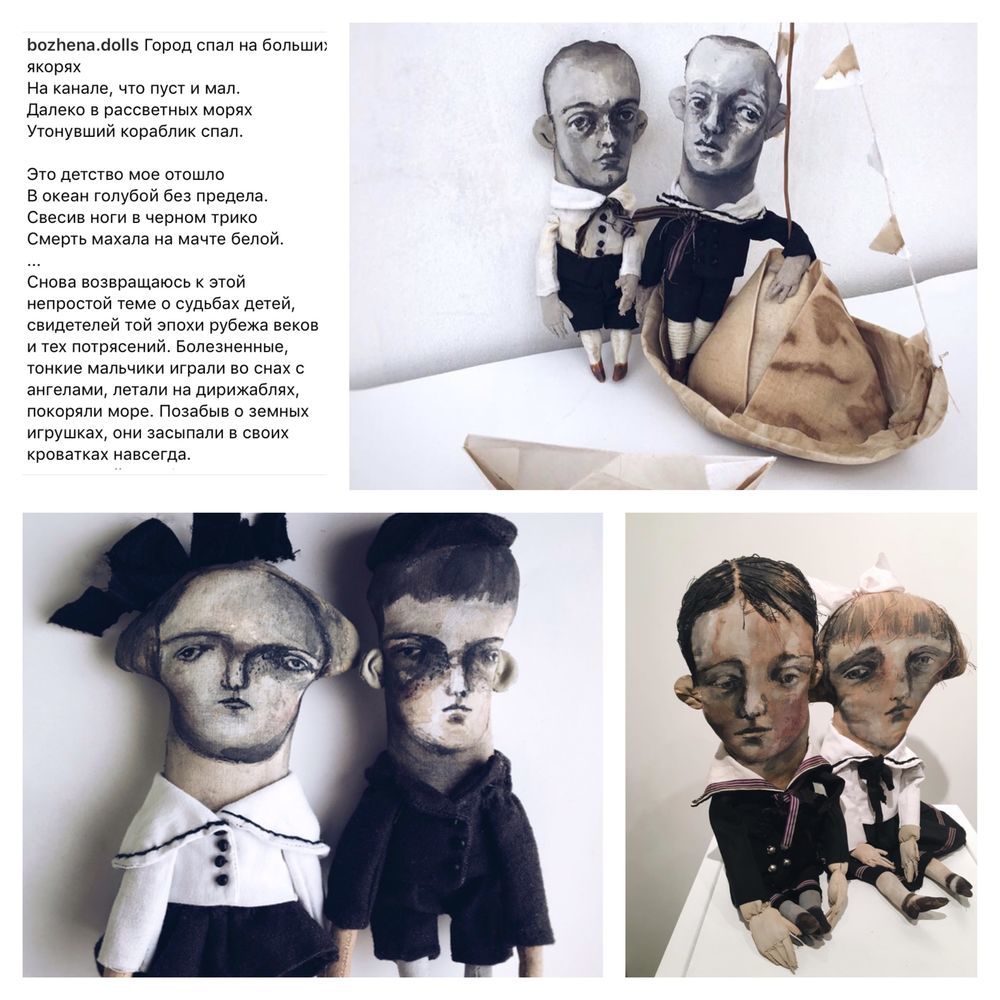 This is modern poet Elena Schwartz, embodied in a doll. It is difficult to call this character "primitive". By the way, I knew nothing about this poet, but I am happy to fill the gaps.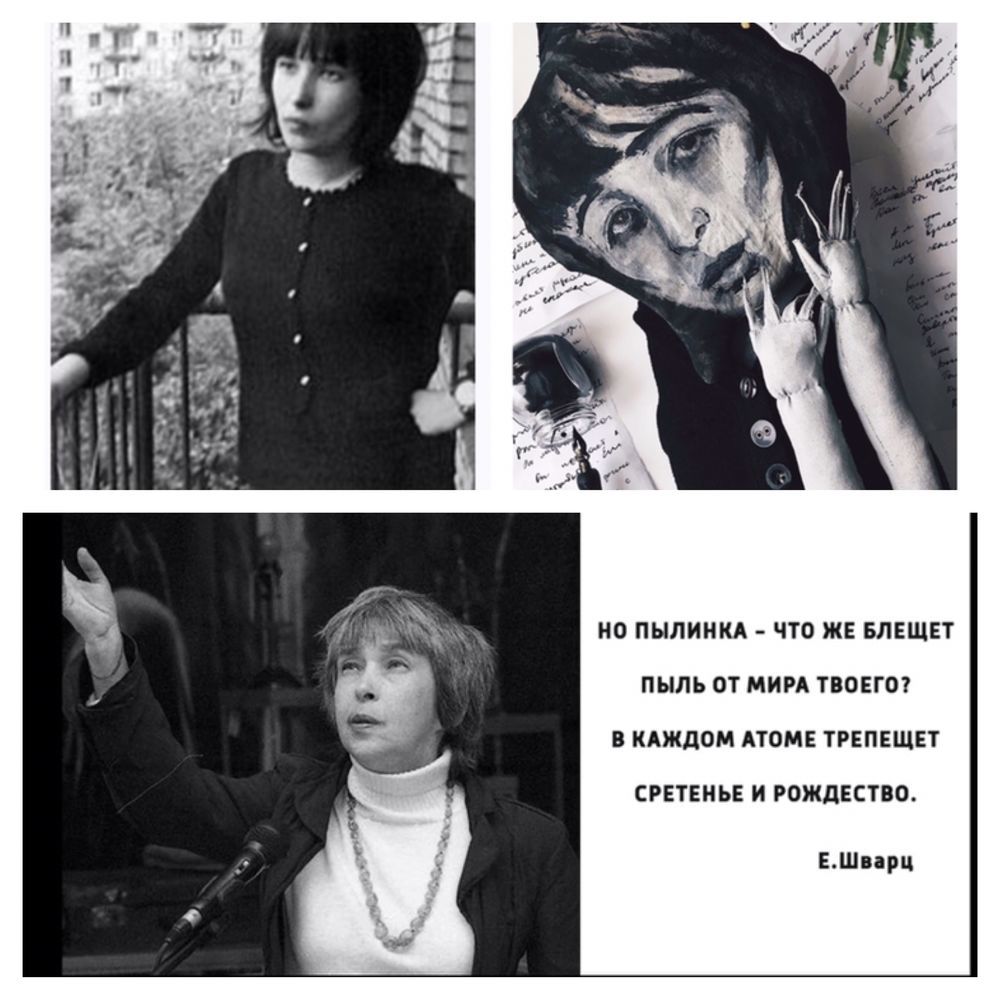 Looking at unusual dolls by Ksenia, I plunged into old photos, pictures, drawings, books with great pleasure and complemented these remarkable dolls with impressions I got. I hope you will not stay indifferent either.
So, let's start with Vincent van Gogh... in blue, with sunflowers and even in a hat with a bandaged ear.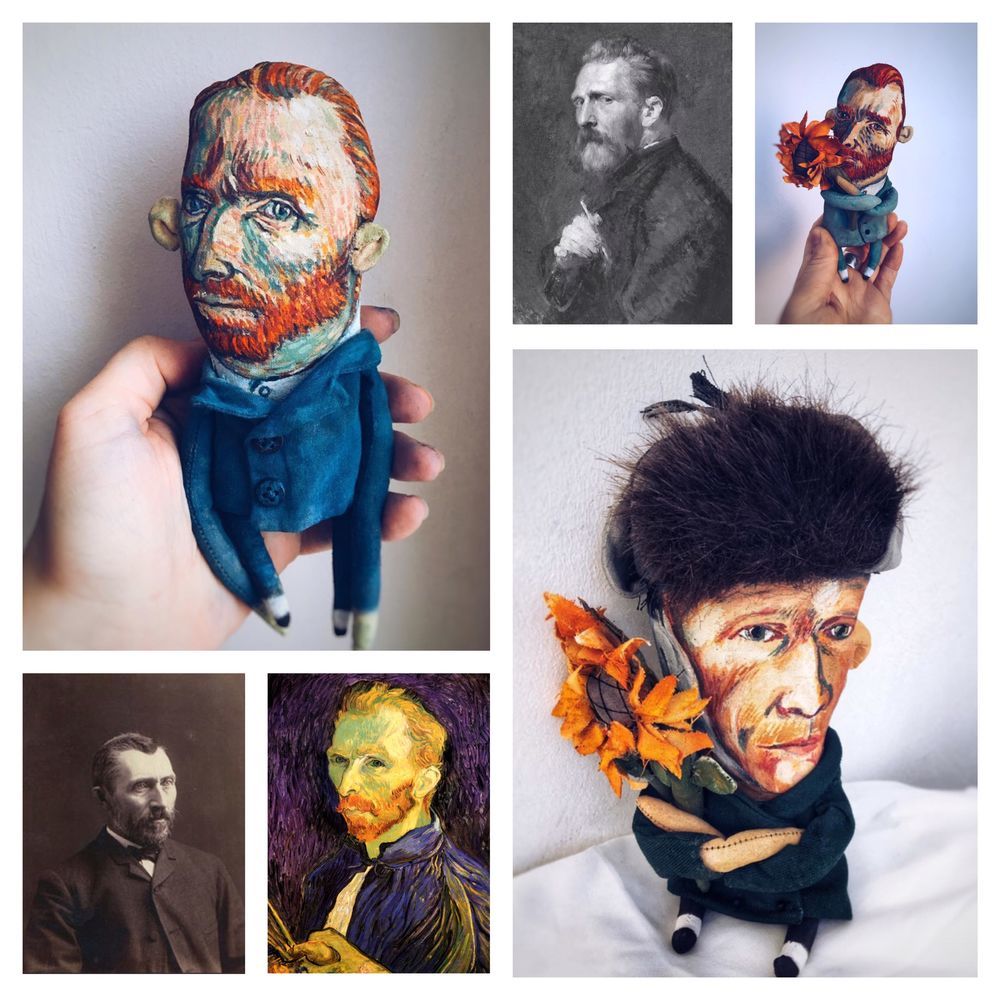 The next is a combination of artistic talent and poetic gift. The combination of love. Amedeo Modigliani and Anna Akhmatova.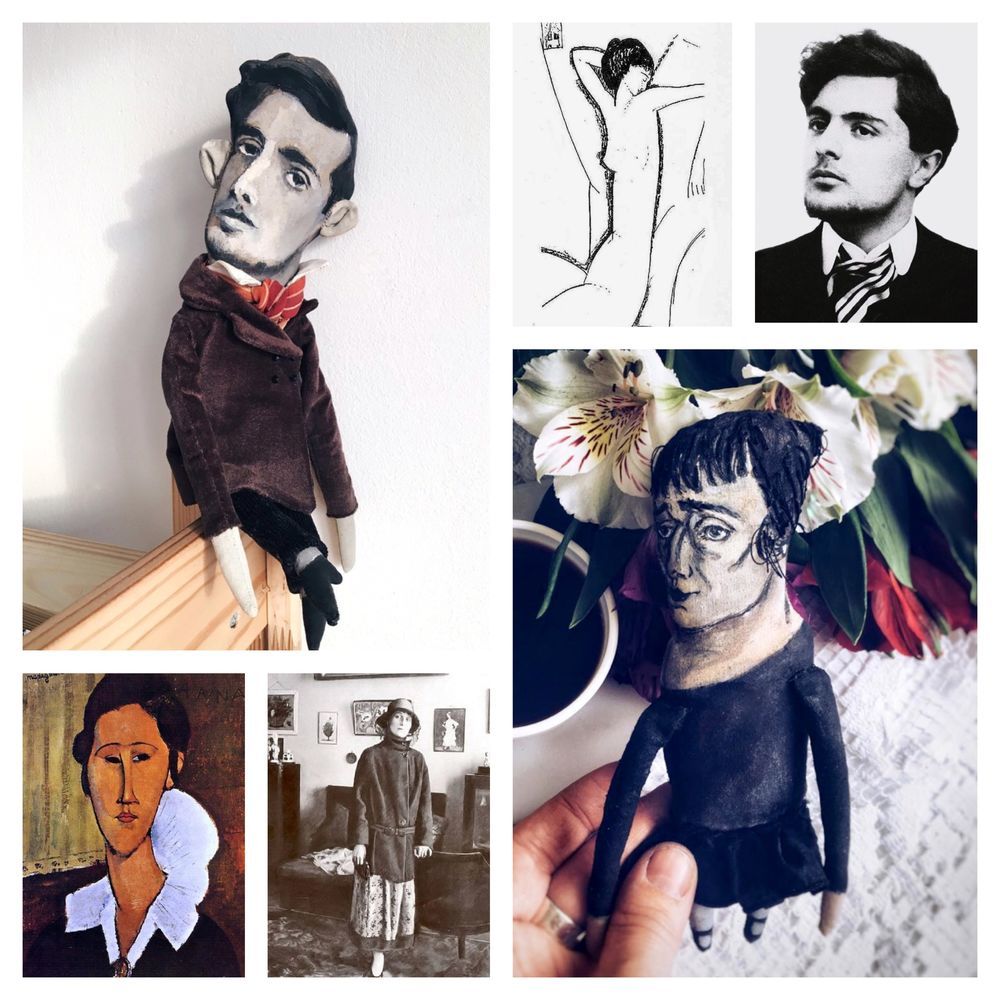 Love theme. Two artists - Salvador Dali, a famous venerable genius who lived next to his beloved muse till senior years, and Egon Schiele and Wally, who flashed as a lightning in the 1920s.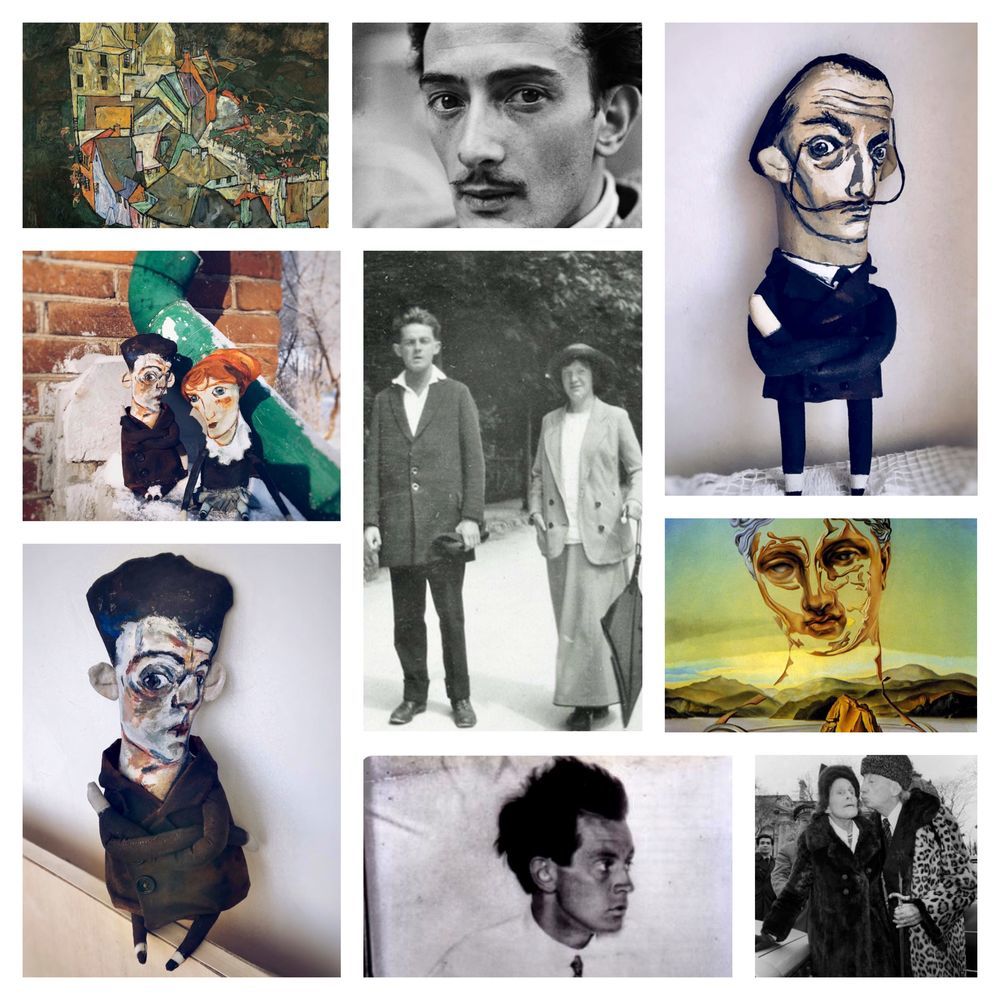 Lyrical Yesenin and Mayakovsky. Mayakovsky is also lyrical, I do not perceive something else for some reason... only that he sends flowers to the woman he loves even after death.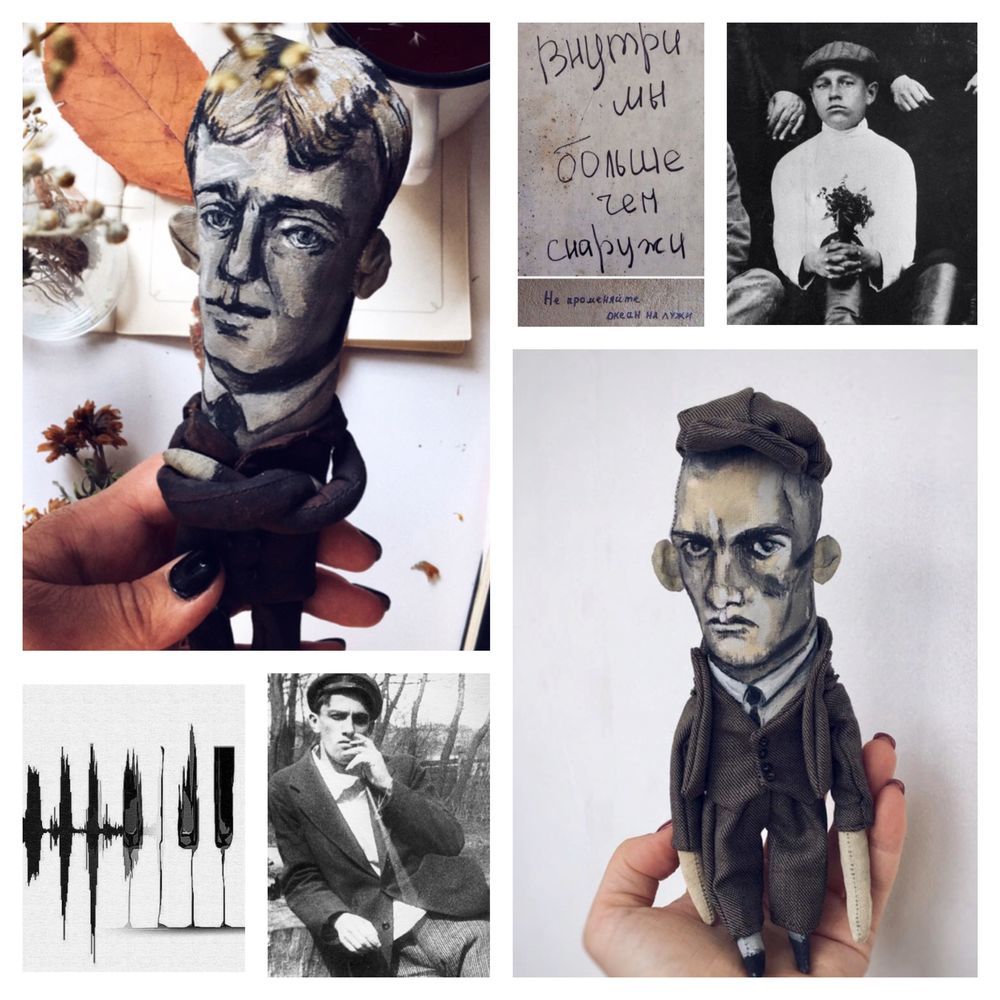 Of course, classics of Russian literature. A sure thing! Not because they were in the curriculum, but because there is no us without them. No need to introduce them :). The originals are geniuses, the dolls are masterpieces.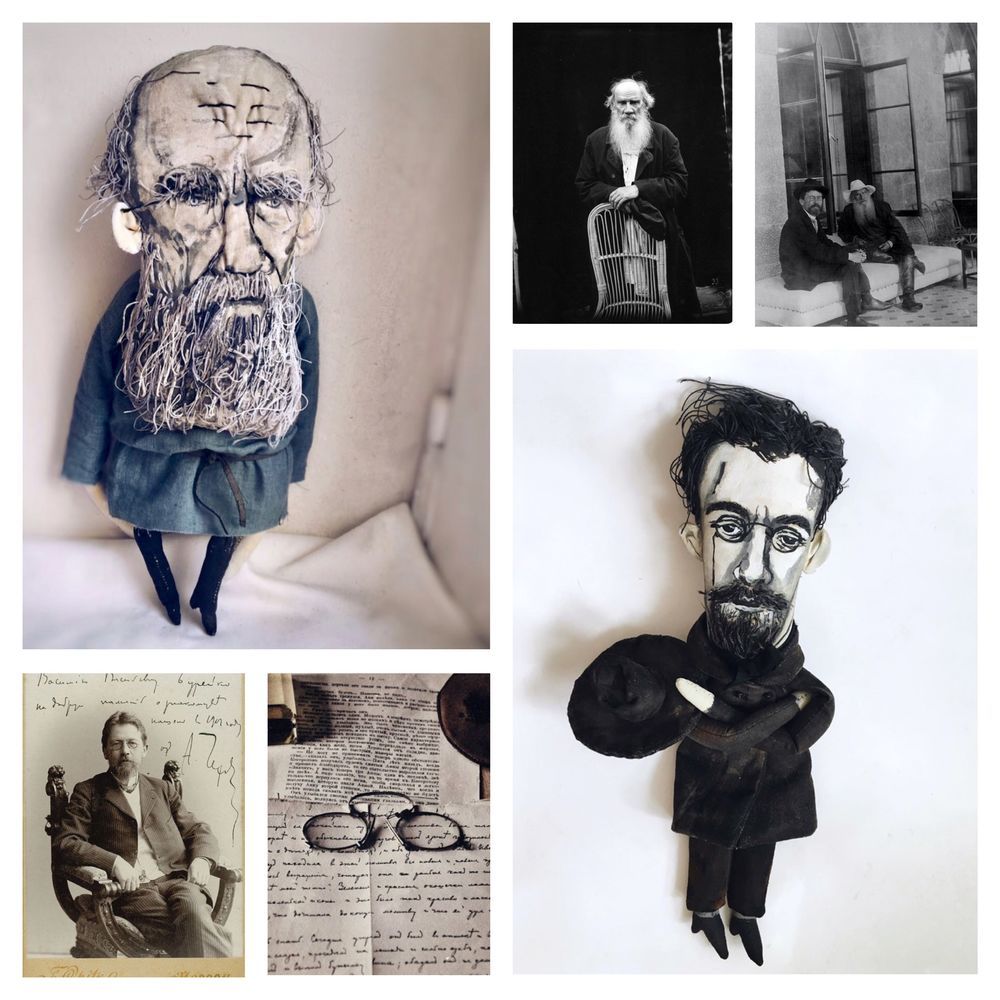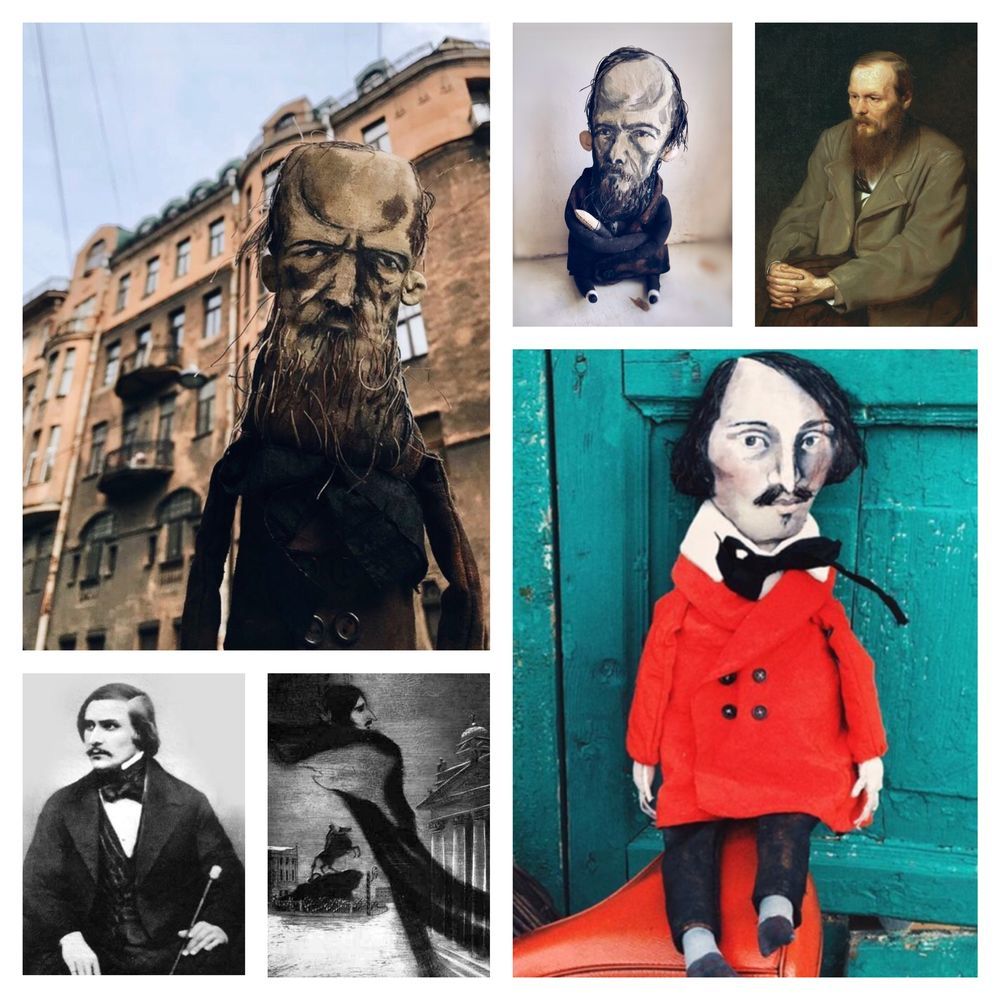 Let's return to the lyrics of the Silver Age. Boris Pasternak and Aleksandr Blok.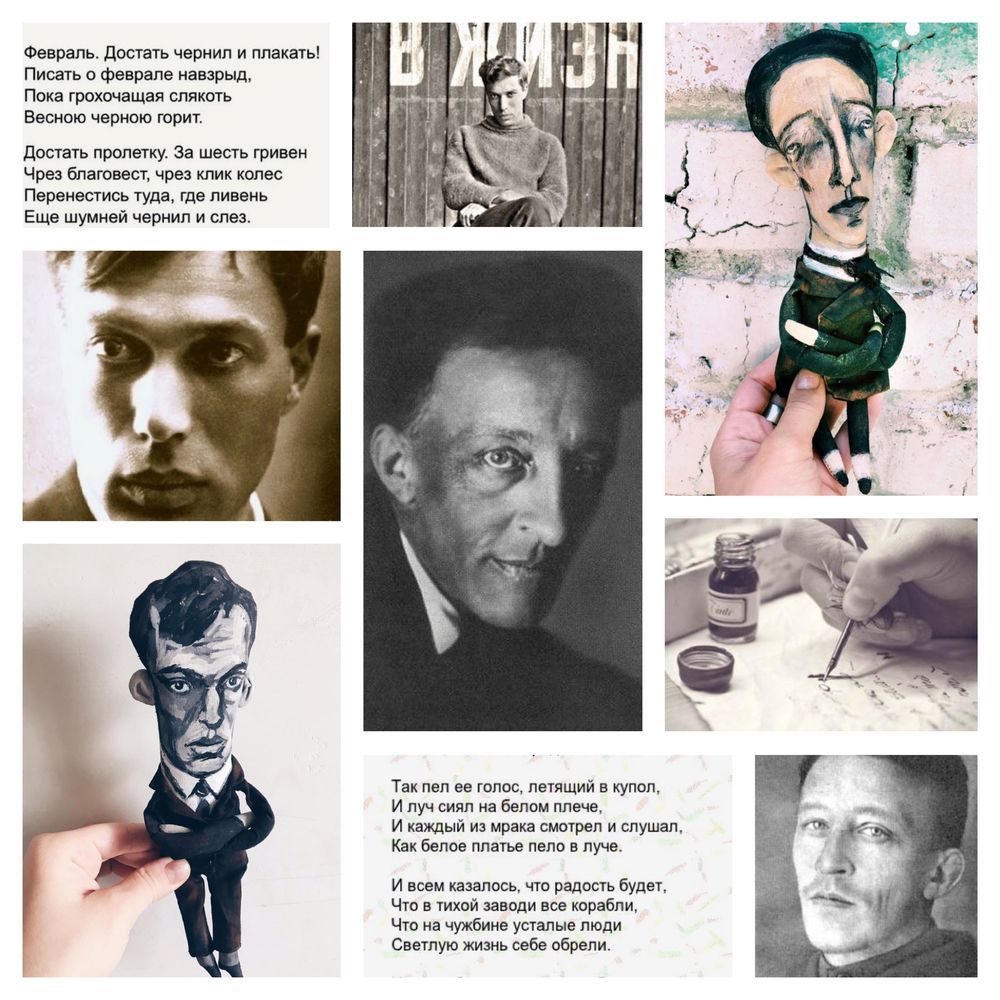 Sad comedian Charlie Chaplin and black Pierrot by Aleksandr Vertinsky.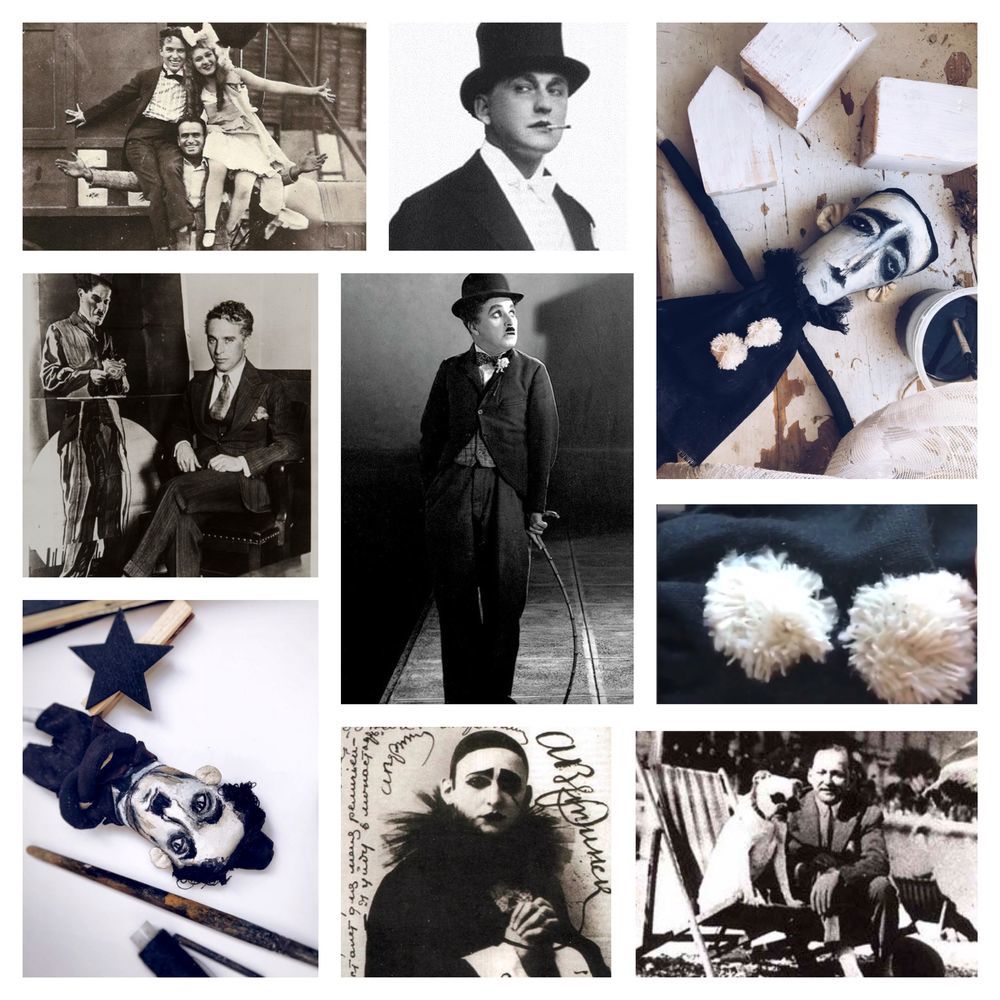 The theme of poetry continues Daniel Harms and Joseph Brodsky. These two poets never met, but could... if only.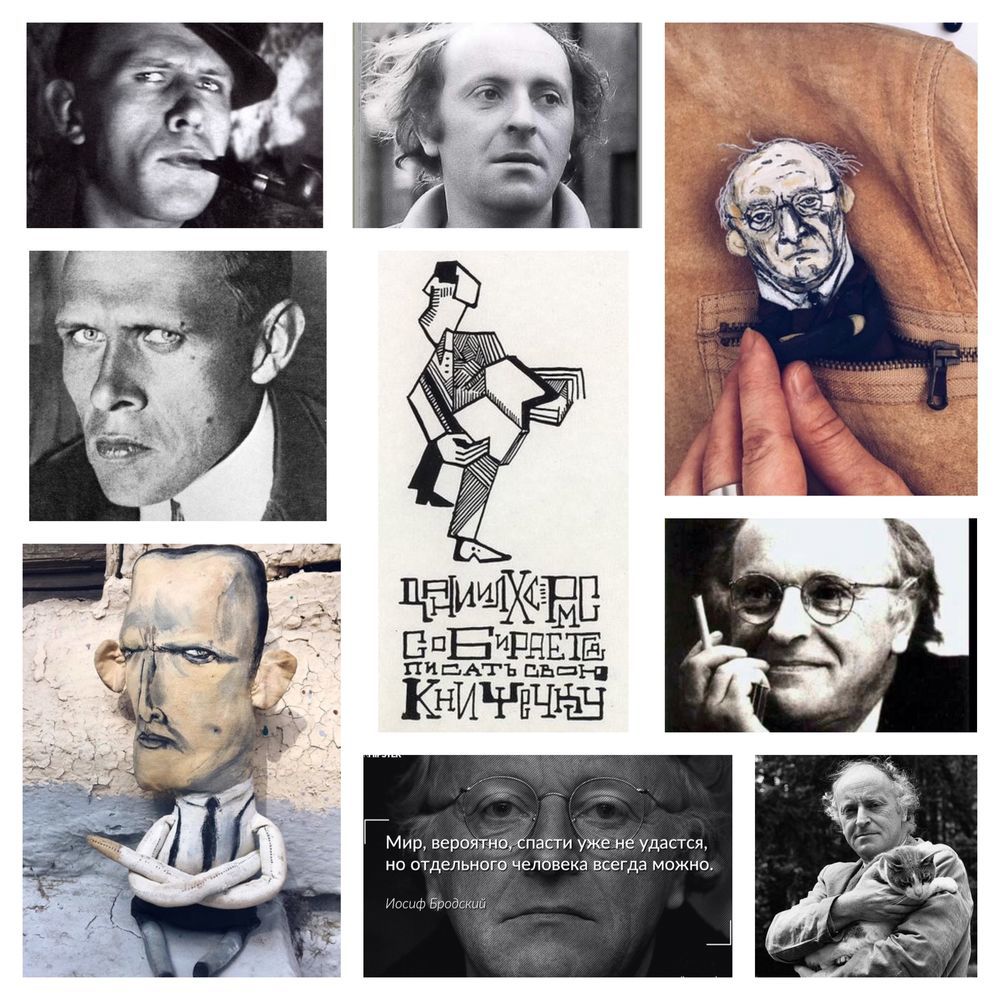 We'll not forget about foreign literature either - sad fairy-tales by Hans Christian Andersen and mysterious Edgar Allan Poe.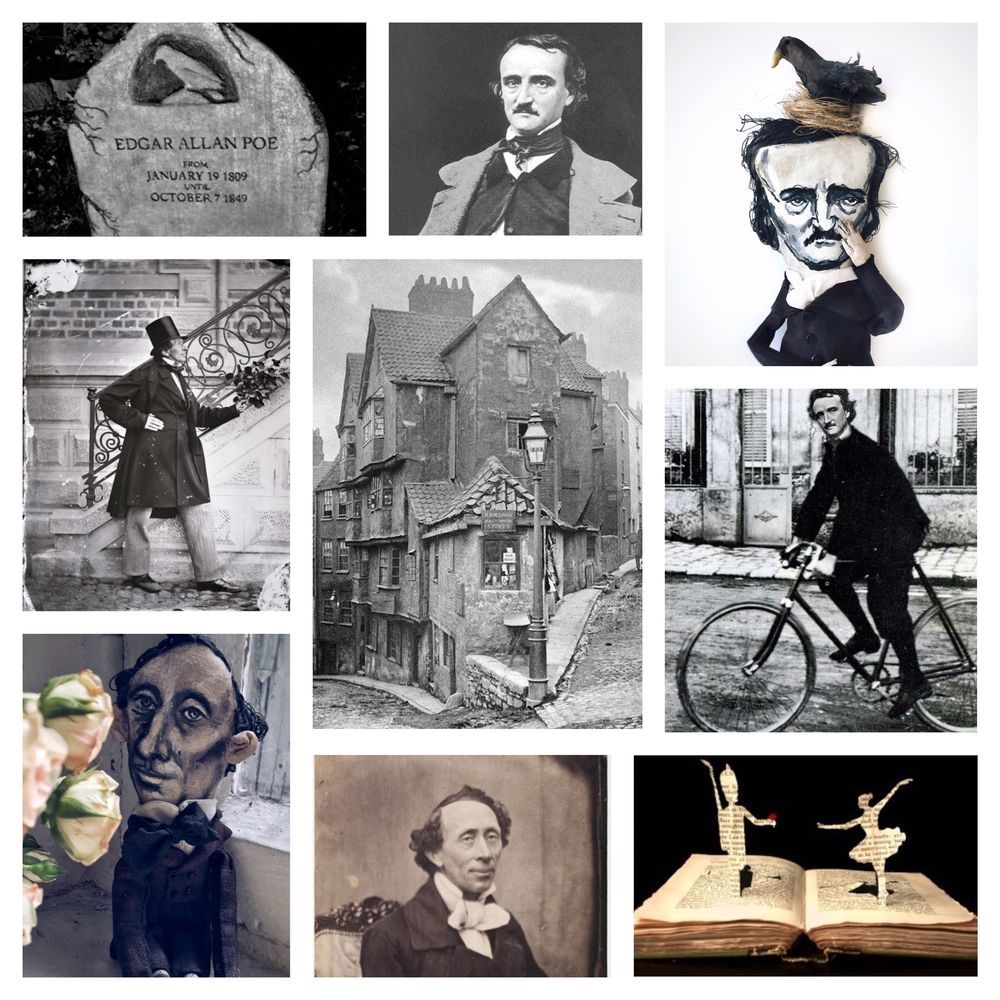 Not understood genius of horror Franz Kafka and American satirist Kurt Vonnegut, who really loved the sea and adored dogs.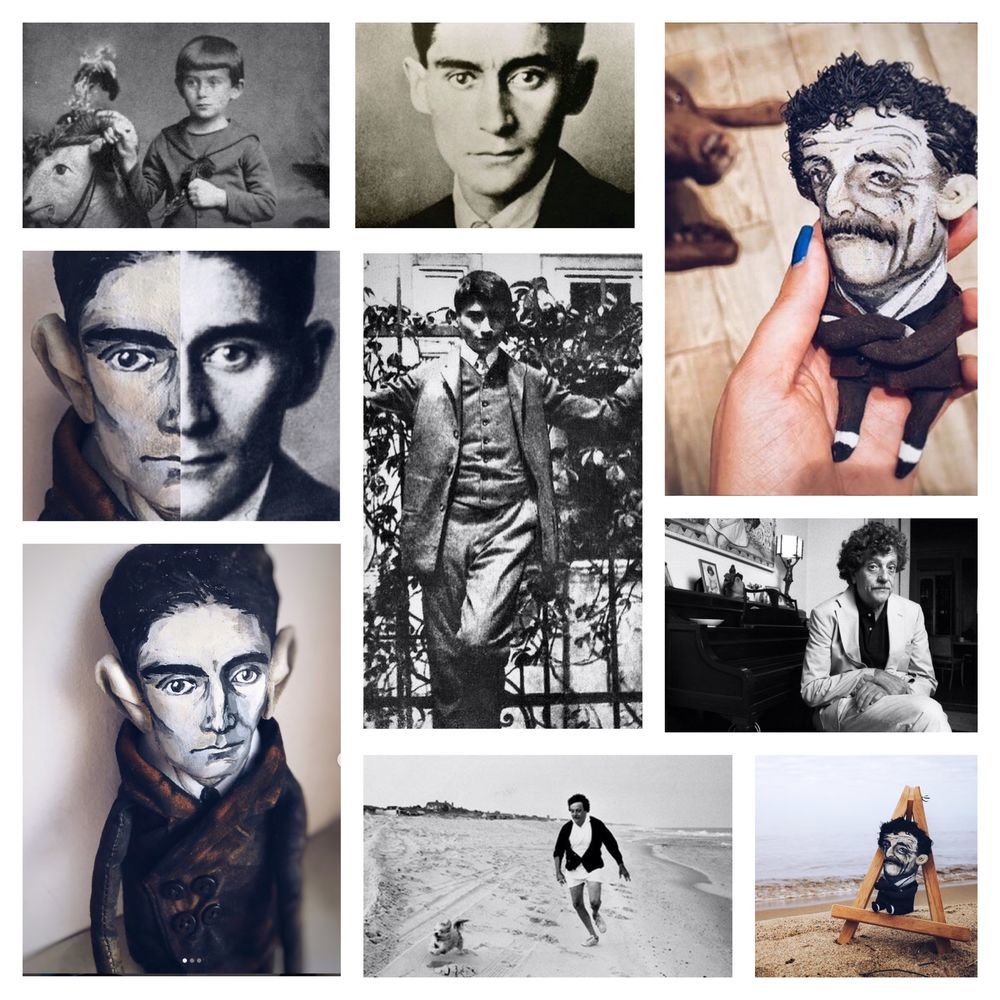 A couple of opposites — writer Charles Bukowski, an American underground representative of "dirty realism", and no less famous American science fiction writer Ray Bradbury, whose work also covered parables, fantasy, fairy tales. They both loved animals immensely.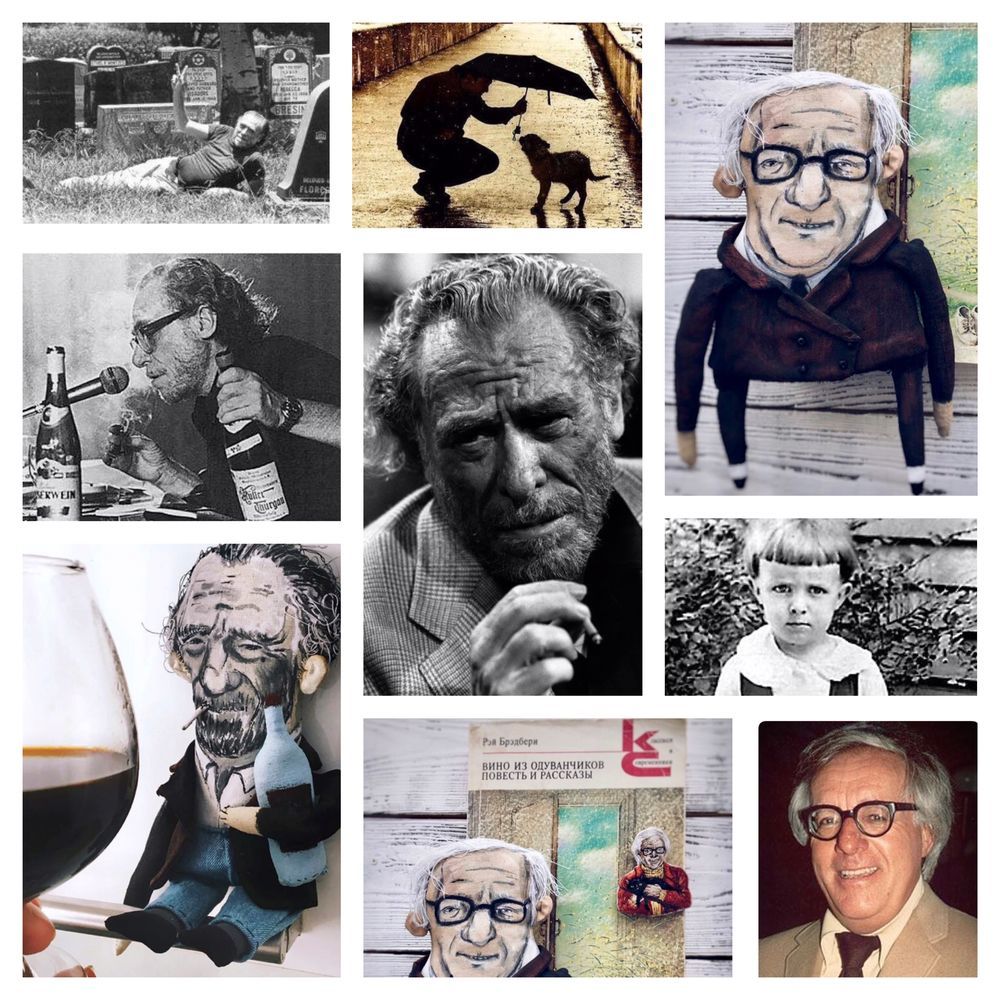 Charming girl Ksenia Bazhenova creates such stunning intellectual primitives. It is pleasure for eyes, mind, and heart. I found this talent on the Internet by accident, but overnight I became an admirer.