How to Paint Fabric with Birch Leaves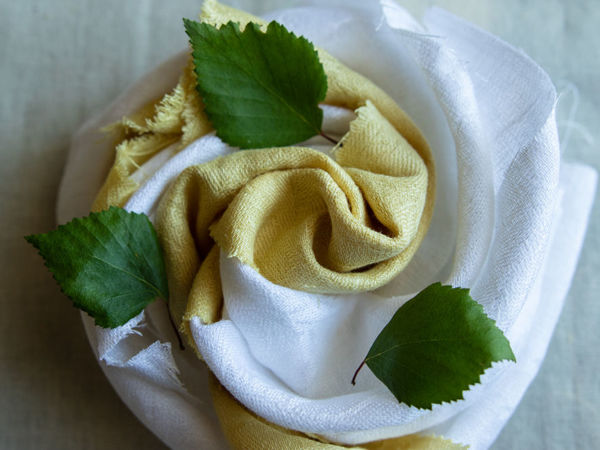 Finally summer has come, so dyeing season has begun!
The first dye that can already be collected and used in dyeing is birch, or rather, its leaves. In the afternoon, when the leaves are saturated with sunlight and have acquired all the useful and color properties, it is considered to be Trinity (Orthodox holiday), which this year is on June 16.
Today I want to share with you, dear readers, my experience of dyeing and tell you how to paint the fabric with birch leaves.
For this tutorial you will need quite a bit:
1. Desire to paint :)
2. Natural fabric. I took linen tablecloth.
3. Water.
4. Birch leaves.
5. A little of color fixer (table salt, aluminum alum, etc.)
So the process is the following.
To begin with, soak all the materials that you want to paint overnight in water. It is also necessary to soak birch leaves in water. Water should be soft, infused one (but you can use tap water). For 100 grams of dry material you need 5 liters of water. Next, you need to put dye soaked in water on fire (i.e. birch leaves). When the water starts boiling, the fire should be reduced to a minimum and maintain a low temperature in the pan, occasionally stirring the brew for about an hour. Then drain and add 4-5 grams of salt to fix the color or aluminium alums and mix thoroughly. I added alum. As a fixer copper sulfate is also suitable if you want to get a rich yellow shade. After that, you need to put the fabric into the resulting solution, without squeezing it from water, periodically turning it over during dyeing. The fabric should be kept in the dye until the desired saturation shade. I did it for an hour. If you leave the material to cool in the dye, the color will be more intense. But in this case you need to stir the fabric constantly to avoid stains.
Then carefully rinse the fabric in water with the addition of a mild detergent and let dry on a flat surface, straightening all the folds.
Fabric in a wet state (under it is dyed cotton): Already dry and ironed (it is a piece of undyed fabric): With sunset light: The same fabric, but in the afternoon. The light from the window. Thank you all who have read to the end!
I wish you successful with dyeing experiments!
DIYs & Tutorials on the topic