On the Darker Side: 35 Extravagant and Weird Sunglasses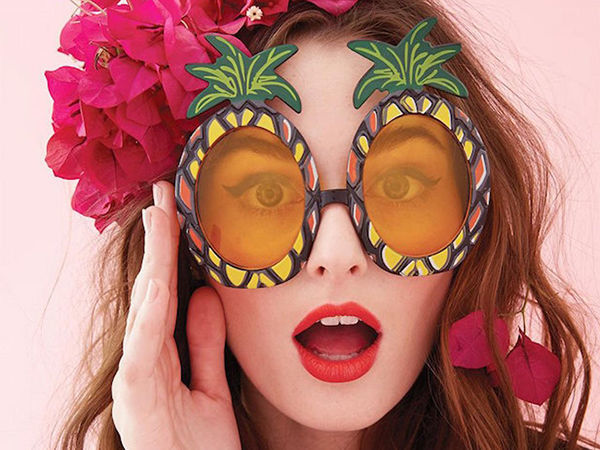 In summer sunglasses are must-have. In addition to its protective function, they also perform a decorative function: properly selected glasses are designed to frame your face beautifully and complement your summer look.
In most cases, we stick to classic options that fit shape of our face and wardrobe. However, that doesn't stop designers from offering more and more mind-blowing options every year. I got inspired by a selection of unusual swimsuits and decided to choose 35 most extravagant and strange sunglasses for you. You decide if they can be in real life or not :)
The tropical theme is always fun and relevant: Dimonds are girls` best friends: Extreme Baroque. It is another story if you see something through them or not: When you have a wild look: Not a cat, but a fish. Aquarian fish: If you do not like the fish, there is a bird: In general, different animals are trendy now, including extinct and fairy ones: Glasses for enlightened people: For those who fight crime at night: Dream catchers, stained glass and skulls — you need a lot to make a look of a mysterious lady: Lego house: In fact, you are soft and fluffy: I wish I could watch an episode of my favorite drama show in them! Space glasses! A little of futurism: Sunglasses with a visor to be protected from the sun and rain: Another option is a 2-in-1 option — glasses and a scarf: Here is an option for artisans. Not a minute without a stitch! In my opinion, Dolce & Gabbana surpassed everyone! Just look how crazy they are about them: Bonus in the name of justice
The thirst for experimentation and a slight degree of madness inherent to the artists of all times :) The desire for epatage is no news for the fashion world. For example, these are the glasses, offered by designers in the 1960s: Put likes, add the article to your favorites and share your impressions in the comments! :)