Shlychka: Unique Head Wear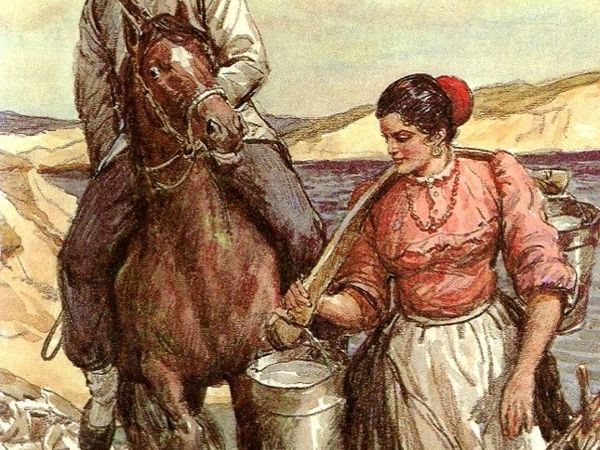 "A nation that does not know its past has no future." Mikhail Lomonosov
There were times when married women had not only their privileges and duties, but also their own peculiar clothes.
Such unique headwear that once adorned the heads of married women. They gave women special charm, highlighted their status and position in the society, were a mandatory part of outfit of any married woman, inherent in each class.
Hats changed shape, color, jewellery, fabric. For wealthy and poor women, for holidays and everyday life, from ordinary canvas and expensive brocade, decorated with embroidered braid and Flemish lace — bonnets, caps, pokoiniks (headwear for married peasant women), shlychkas.
Today I want to tell you a little about shlychka — the headdress of the Don and Kuban Cossacks. Unknown artist. "Meeting at the Don River" by Aleksandr Shebunaev Remember "And Quiet Flows the Don" by Mikhail Sholokhov? His Aksinya?
"The wind ruffled Aksinya's skirt, touched small fluffy curls on tanned neck. On a heavy knot of hair was a flaming shlychka embroidered with colored silk..." (Mikhail Sholokhov)
Those who have once seen the film with Elina Bystritskaya, it would be impossible to forget Aksinya.
Shots from the film "And Quiet Flows t he Don" by Sergei Gerasimov with unforgettable Elina Bystritskaya as Aksinya. Here is Polina Chernyshova as Aksinya in "And Quiet Flows the Don" by Sergei Ursulyak. Shlychka came into fashion in the early 20th century as a headdress of a married woman of Cossacks from different regions. It was a small round cap worn on a hair knot. Shlychka was tightened at the back with a ribbon, threaded through it in front of the head, or was fixed with a shiny hairpin. "Waiting" by Sergey Gavrilyachenko. 2003 Everyday shlychka protected hair from hot sun, wind and rain, and shlychka sewn from expensive fabric, decorated with embroidery and glass beads, was the pride of the beauties.
There is a saying: "New is well forgotten old".
This headdress can be worn in modern life as well. Ballerinas or those who are engaged in ballroom dancing are familiar with a hair bun.
Hair is sleeked down and fixed on the top or back of the head in a ponytail, and then it is twisted into a tight knot and fixed with pins or slides.
Dancers, making this hairstyle, often put on a special mesh, matching hair color or vice versa, to make an accent.
The main feature of this hairstyle is that the result is neat and will remain so for a long time. Which is very important for a ballerina or a dancer. Here you need shlychka badly! I want to mention that in 2016 Vologda held one more all-Russian Competition of Professional Lace-making "Serebryanaya Koklushka" (lit. "Silver Bobbin").
In one of the nominations of the competition two pupils of the 11th grade headed by V. Zalesova were awarded diplomas for their skill.
They made slick shlychkas for hair buns for the competition. I want to think that modern fashionistas will also find this interesting accessory appealing.
For example, you may add shlychka to a wedding or prom hairstyle.
Imagine to leave a thin hair strand under the shlychka... unusual and attractive! What do you think? It will be interesting to read different opinions.
All materials are taken from the Internet.