Summer, Sun, Sea, Beach in Embroidery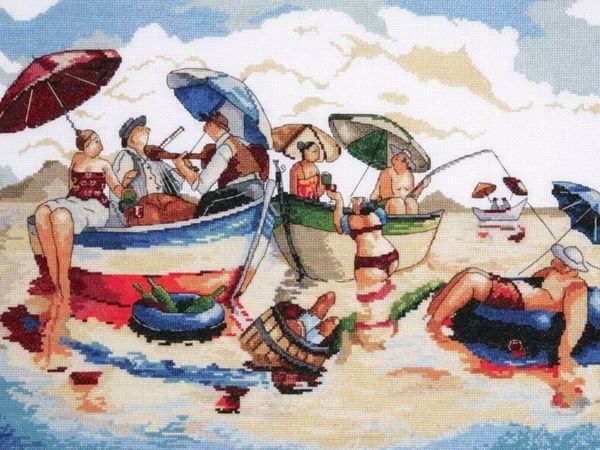 Beach week has started on Livemaster, and I want to tell you about embroidery again.
Summer, vacation, sea, beach... What could be more desirable and beautiful? You want not only enjoy, but also capture the memory to recall it during long winter evenings and enjoy these beautiful moments again. This is when photos, paintings and... embroidery come to rescue us!
So, embroidery of "beach" and "around the beach" theme strikes a riot of imagination and a variety of subjects.
There are real "works of art": There are simple ones, reminding of children's drawings: There is humor: There is a whole selection of patterns that can be called "Children on the beach": There is also a more serious selection, call it "Lady and sea": What a variety of patterns of near-beach plot. This can include seascapes and sunsets over the sea, sailboats, lighthouses, dolphins, pictures of the underwater world, and fish.
Still, I think, pictures of cozy coastal towns and bays will bring the most positive emotions: There are also stories, called "Memories of the sea": All this is embroidered not just with great love, but made with an incredible creative approach as well! Sometimes people continue the the plot on the frame: Sometimes different shells and even ordinary pebbles are used: Sometimes whole collages or 3D paintings are created: Inspired? Give it a try! You want to embroider everything at once, and then take even more: it's an obsession, it is an infection to embroider! To embroider!! To EMBROIDER!!!