Tutorial: 3 Strands of Beads in Decoupage Technique, Dot Painting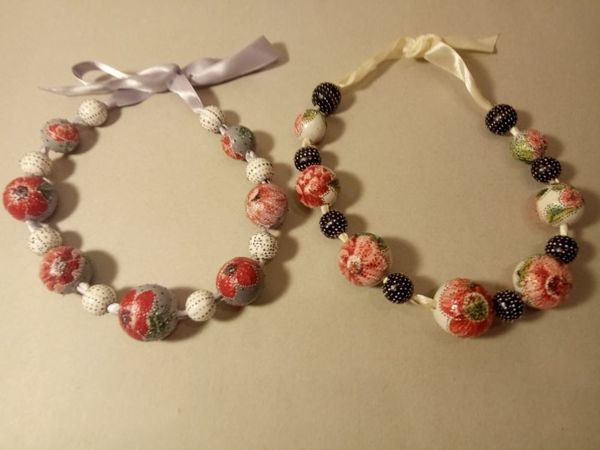 Beadsmania.
We continue to complement women's summer looks with bright accessories — wooden beads decorated in decoupage and dot painting techniques.
Each outfir should have its own bracelet. Therefore, to create 3 bracelets! When decorating several products in parallel, we save time and materials, since most of the time is spent on preparing for a certain operation and drying the product after each stage.
Step 1. Preparation.
Get the wooden beads of different sizes and shapes, lay them out one after another. Think over how you will paint the beads, how you will decorate them. Step 2. Sanpaper.
Take sandpaper, and sand each bead. Step 3. Putting beads on skewers.
To work conviniently with each bead, put them on skewers, if beads have wide holes, you can put them on straws. Step 4. Primer.
With the help of acrylic paints and brushes paint the beads in the colors that you have chosen when creating the layout. Dry. After drying, paint over again. Step 5. Decoupage.
From napkins or decoupage cards choose the items you need for decoration, cut them with scissors. If you are using napkins, note that most of the napkins have three layers, remove the two lower layers, leaving the third, upper and colorful one. Take PVA glue and brush, paste decorative elements on the beads. Let dry. Step 6. Varnish. Take acrylic paint and brush. Varnish each bead. After complete drying, varnish again. Step 7. Dot painting. With the help of acrylic paints in tubes intended for dot painting, paint each bead according to the idea you had at the beginning. Step 8. Threading. After drying the dots on the beads, remove them from the skewers and straws, take a needle with a large ear and strung in the planned order on the ribbon. Congratulations, the bracelets are ready! Wear to the joy of yourself and others! DIYs & Tutorials on the topic