Making Table Lamp in Scandinavian Style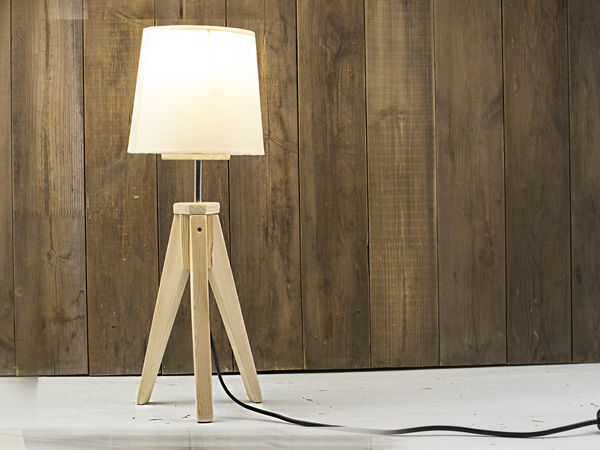 Thanks to my most favorite web-site for constantly offering Scandinavian interiors. In one of such stylish Scandinavian lofts I saw a tripod lamp and wanted to make it with my own hands. Actually, the background is simple, however, there is one significant BUT. I decided to conduct a kind of experiment in the video: to make a lamp without buying anything, and use all sorts materials` leftovers from other projects. I think it's Swedish, but I have a lamp in Scandinavian style, after all.
By the way, it didn't end there. Throughout the tutorial, I have at least three times amended the final appearance of my lamp. Initially, it was supposed to be a table lamp with a lampshade. Then the lamp with a lampshade turned into a lamp with a lampshade, which was attached to a tripod with a metal tube. In the end, I added a few more details. To keep it short, to make it perfect, you need to try not just one option.
So, for one Scandinavian-style table lamp you will need:
2 bars of different thickness;
piece of board;
electric screwdriver;
drill;
screwdriver;
power cord with switch;
ceramic cartridge;
ruler;
pencil;
sandpaper;
multifunctional glue;
metal tube;
lampshade;
water based varnish;
brush;
hacksaw;
saw for metal.
DIYs & Tutorials on the topic