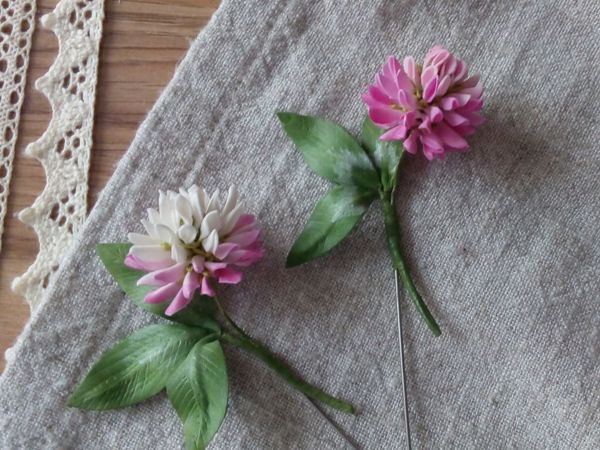 I'd like to show you how I make a foamiran clover. To make it, you will need: foamiran (white, olive and green), super glue, tape, wire, scissors, iron, oil pastels, acrylic lacquer. Draw and cut out two circles, one 3 cm in diameter, the other 2.5 cm in diameter, divide it into 9 parts. Choose thin foamiran for flowers 0.6 ml, I used Turkish one, marshmallow foamiran is not suitable. Circle and cut out the blanks, three pieces of 2.5 cm and 4 pieces of 3 cm. Now let's tint, I used three types of pastels: dark pink, pink and light pink. Clover is of different shades, here you can use your imagination and come up with your toning. Tint both sides. I toned 2 pieces of 2.5 cm with light pink pastel, one more piece of 2.5 cm I toned with dark pink, 2 pieces of 3 cm with pink and 2 pieces of 3 cm with dark pink pastel. Now proceed to the most time-consuming work, we need to glue the base of the petals. Turn on the iron and finish the petals, apply each petal to the heated at medium temperature iron and quickly compress it. After heating the petals with the iron, turn the workpiece and with a boule or with the rounded end of a pen press the workpiece on the sponge, for the petals to rise slightly. From olive foamiran cut out seven circles, about 1 cm in diameter, make fringe on them. Then twist them with your fingers. Wrap a wire with tape and you can start assembling the clover. Place green part on the tip, glue, then take light pink blank of 2.5 cm. Also glue it, and glue the tips of the petals, and then glue them together. Again green parts, glue, now glue all the elements to the base, try not to touch the petals and fringe, and place pink blanks staggered. So, we get the green part, then a small light pink blank, again green, again a small light pink, green, large pink, green, big pink, green, large dark pink, green, large dark pink, green and the last layer, a little dark pink piece. Clover is ready, it remains to add leaves. To do this, cut out leaves of about 3 cm long and 1.5 cm wide. Heat them on the iron, shape, then glue wire, wrapped with tape, on the back. Draw the veins with a toothpick. Draw clover spots on the leaves with white acrylic paint, after drying, cover it with acrylic lacquer. Collect a leaf, connect it with the clover and admire the result. If you add a clasp to it, a unique brooch is ready! DIYs & Tutorials on the topic