Creating Bee Brooch from Polymer Clay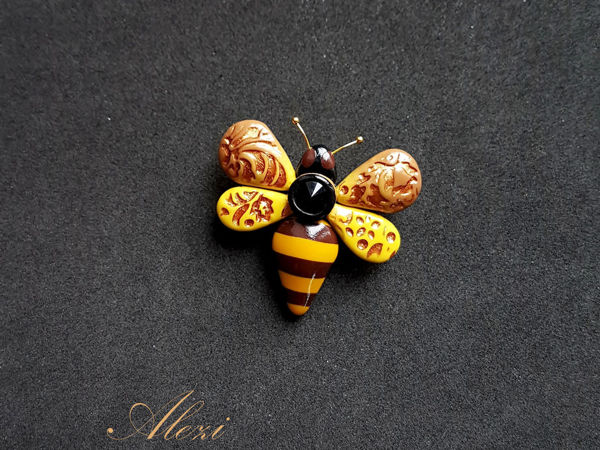 The theme week of "May Bees" inspired me to create this unusual bee. When I did it, Winnie-the-Pooh kept saying in my head: "These are the wrong bees and they make the wrong honey" :)
Indeed, I have the wrong bee, anatomically incorrect. But it is sweet and charming, not scary. I'm afraid of real bees, to be honest.
So, what do we need? Core set is the following:
polymer clay (brown, yellow, black, beige);
forms (cutters);
blade, rolling pin, pasta machine;
pins;
textured sheet;
acrylic paint;
varnish.
I cut two layers of polymer clay into strips. Then I connected them, placing a layer of polymer film on it, and rolled it with a rolling pin. With the help of a teardrop cutter I made a convex abdomen. I love cutters — they let you make things neat and smooth. From beige and brown clay I made a round body. With the help of a round cutter, I corrected the form and at the same time made the substrate. From beige and yellow clay I made a layer with the transition of colors and with textured sheet I applied a pattern. With the help of cutters I cut out the wings. I made head with brown eyes from black clay. I placed the bee on the prepared lower layer, collecting all the details together. Then carefully cut it out. In fact, you can leave it like that, but I wanted to use black Swarovski crystal, which I fixed on the body. Then I inserted the pins and sent the bee to bake. After baking, I sanded all the irregularities. Then I glued the basis for the brooch and covered it with a polymer clay with my nickname. Then I sent to bake again. After baking, you can leave as it is, but I still covered the wings with bronze paint, and sanded. The pattern became more visible and expressive, and the bee became more elegant and festive. I removed the crystal and the pins, to glue them after varnishing. What happened in the end? I got such a charming bee. I couldn`t resist and placed another pair of Swarovski crystals of golden brown. Brooches turned out quite miniature, very light and elegant. This brooch can decorate a T-shirt and jacket. Thank you for your attention! If you have any questions — please contact us. I would be happy to answer!
DIYs & Tutorials on the topic