As Busy as a Bee: 13 Ideas for Creativity + Bonus for Needlewomen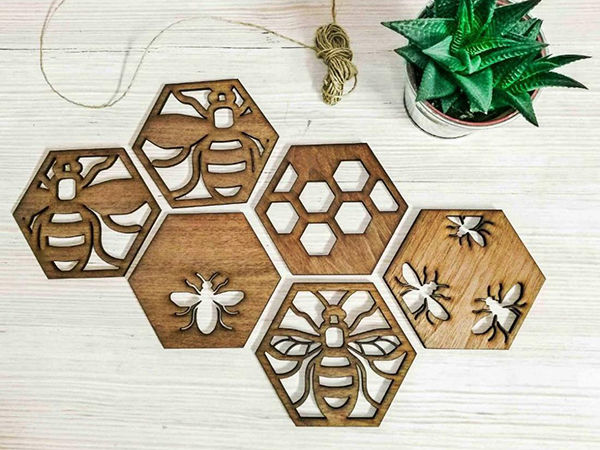 Workers-bees can not sit still just like us, needlewomen and craftsmen. So I have decided to support the topic of the Bee Week in May , making for you a selection for creativity: I hope these 13 ideas with examples will inspire you for new achievements and to create a truly summer mood!
Besides, at the end of the article you will find a pleasant surprise: 13 original schemes for embroidery + options for printing labels and boxes for your work. Enjoy your creativity!
1. Decorative painting
Take paints and ask you family to join you! For such experiments, acrylic paints are perfect, and you can decorate a vase or a flower pot, glasses for kitchen utensils and the dishes themselves with bees. 2. For those who crochet
Spectacular plaid of "grandmother's squares" or a toy bee-amigurumi can fin in the nursery perfectly: 3. Funny and unusual jewellery
Unusual earrings, bracelets, brooches and necklaces can transform you look completely. Choose your favorite techniques and materials — bees will be good in any case. In the photo, you may see an easy option of painting on a cork: 4. Garlands and pendants
If you need to decorate a children's party, a summer celebration or, for example, your favorite cottage, then a variety of garlands and pendants are in a hurry to help you. Fluffy bees out of pom-poms, stained glass paints and copper or futuristic honeycombs from glass — the flow of your imagination is unlimited. 5. Wooden shelves-honeycomb
This furniture looks good not only in the interior, but also on a holiday table. For example, you can save space by placing sweets or snacks on the shelves. 6. Making a diary
A summer spread, devoted to bees, is beautiful! In addition, bright yellow shades will add positivity to everyday affairs and their planning :) 7. Patchwork
The plaid is ready, now it's time to sew a summer blanket. Or a decorative panel. Or potholders. Or a teapot warmer... 8. Themed sweets
Bees like sweets — everyone knows that. So, treat yourself and your family with painted gingerbreads and cookies, beehive cupcakes and luxurious cakes :) 9. Coasters
These useful things can be made of wood, as in the photo, and you can crochet them, sew or even sculpt. They will definitely come in handy! 10. Rest with children
It is not easy to organize children's leisure. Therefore, I offer you an interesting version of an educational game "Bee Sudoku".
How to play?
Cut the squares along the dotted line (at the bottom of the page).
The child places the cut-out pictures in the empty cells of the table.
Each figure should be the only one in the row, column and square of 2x2 cells. 11. Embroider in your favorite technique
The main question is: what to embroider? Decorate clothes with a nice detail, make pillows, aromatic sachets and needle pillow, embroider textile covers for a jar of honey — all these seemingly ordinary things can be truly magical :) Patterns for Cross-Stitch Embroidery 12. Beautiful thematic gift packaging
Below you can find a pattern to assemble candy boxes to place natural soap, sweets or other nice things in it. 13. Labels for goods and souvenirs
Attach this label to a gift or your product before sending: write a few kind words, recommendations for care, the name of the work. Press "like" button and add the article to your favorites, so I will know that you are interested in such publications. See you next time! :)