Making Designer Table Lamp in Loft Style
Difficulty: Medium

Materials:

cardboard

,

scotch

,

scissors

,

pencil

,

glue gun

,

gypsum

,

water

,

edison light bulb

,

screwdriver

,

acrylic paint

,

brush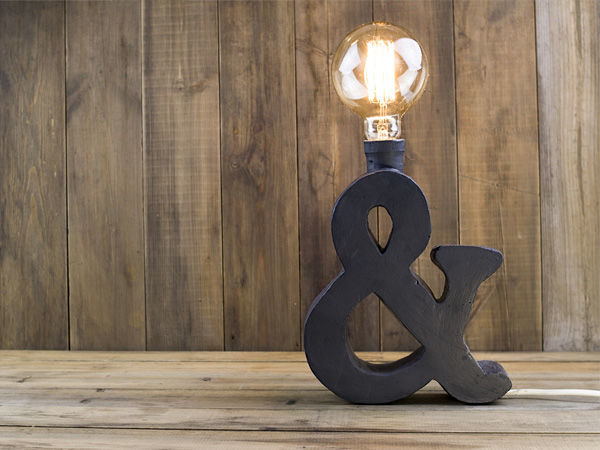 It was a very long and quite ambitious project. It all started with the idea of creating a handmsde desk lamp. It was a necessity. However, I did not want to make something ordinary, typical, like everybody has, and of usual materials. Therefore, design magazines and the Internet have become my true friends for a couple of days in search of new ideas for a table lamp. The result was that I decided to make a lamp from gypsum (now I would make it from concrete) in the form of a well-known logogram "ampersand".
This form and material I chose for a reason. I have not found ampersand lamps anywhere, though, I think, from the point of view of design, such a table lamp looks very advantageous, stylish and, what is very important for me, individual.
As for the material, the plaster then seemed to me the right choice. Because it is quite flexible and dries quickly, and then easily processed. But it was hard to work with it, just because it dries quickly, so you have no right to make a mistake. Now I'd use cement.
I also wanted to make a loft-style lamp. Something textured, rough, somewhere worn — so to speak, I wanted to add history to this thing, to age it, so that the lamp was perceived as a retro and antique one. So I chose an Edison bulb, not an ordinary incandescent or led bulb. After all, this bulb shines in a special gentle way and creates a pleasant atmosphere that adjusts to a positive mood.
So, to make a table lamp in loft style, you need the following:
cardboard;
tape;
scissors;
office knife;
pencil;
ruler;
glue gun;
gypsum;
water;
power cord with switch;
ceramic cartridge;
Edison light bulb;
screwdriver;
electric tape;
acetone;
acrylic paint;
brush.
DIYs & Tutorials on the topic