Creating Hydrangea Leaves from Foamiran with Live Leaves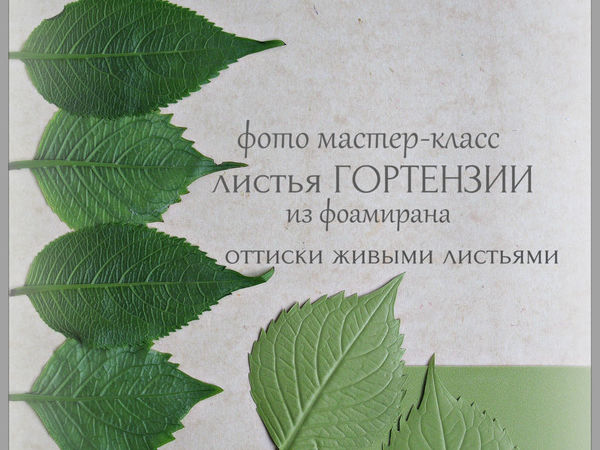 Tutorial on making hydrangea leaves from Iranian foamiran without using special molds.
Any flower or bouquet looks incomplete without leaves, and realistic greenery is a great addition to any composition. In this tutorial I will show how to make clear presswork of veins on foamiran with live leaves easily.
This method has significant advantages! It is economical, "live molds" grow on trees and bushes. This method allows you to create leaves of different size and shape, because in nature there are no identical leaves. Prints are very clear, all the veins of the leaves are visible.
Required materials and tools:
a few live leaves of hydrangea (different size and shape);
Iranian foamiran (olive or green);
melamine sponge;
iron;
scissors.
1. Rip off the leaves of hydrangea, the largest of them should be slightly smaller than the perimeter of the melamine sponge (a and б in the photo). Put the leaves on a hard surface, veins up. You will get 3 clear prints from one leaf, subsequent prints of the same leaf will have less visible texture. Cut a rectangle from the Iranian foamiran, its size must be greater than the perimeter of the sponge (в and г in the picture). 2. The iron is heated to the maximum temperature, wrap the melamine sponge with a piece of foamiran. Hold the free edges of the foamiran with your fingers on the four sides of the sponge. Foamiran does not need to be pulled. 3. Holding the edge of the foamiran, lean the resulting structure to the heated iron for about 30 seconds. Iranian foamiran in contact with heat shrinks, and as you hold its free edges, it does not decrease in size. It's thinning. Be careful, do not to touch the heated iron with your fingers! 4. After 30 seconds, holding free edges of foamiran with your fingers, transfer the preheated design on the live leaf of hydrangea (it should have veins upwards). With the palm of your hand press the sponge and let foamiran cool down for a few seconds. Then, carefully disconnect foamiran from the leaf, cut the free edge of foamiran. 5. In the photo, the letter a is the original thickness of the foamiran, the letter б is a thinned foamiran with a print. 6. With scissors, cut out a leaf along the contour. 7. In the end, you get a clear and distinct presswork. In the photo, the letter a is the front side of the leaf, the letter б is the back side. Enjoy your creativity! DIYs & Tutorials on the topic