Les Annes Folles: Exhibition of Costumes, Shoes of 1920s in Moscow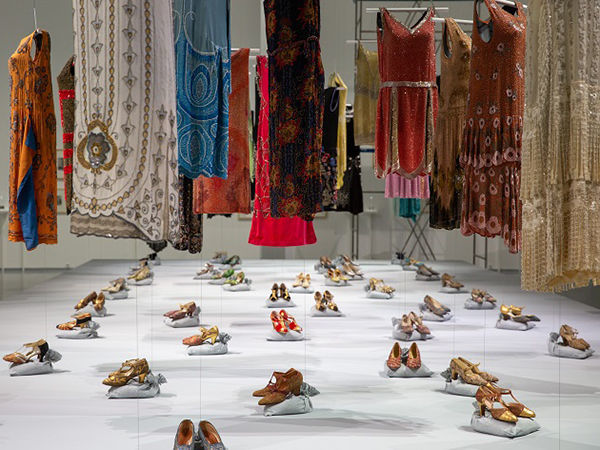 "Roaring", "crazy", "prosperous" — all these are about the 1920s. The exhibition "Les Années Folles" is dedicated to this time. Photo, costumes and shoes from the Shoe Icons collection is now displayed in the Moscow Multimedia Art Museum.
I visited this exhibition myself and today I would like to tell you about my impressions.
The exposition is divided into four parts: there are photos on the walls, sketches from fashion magazines and advertising of those years; along the walls there are original heels from shoes (all under glass caps); one wall has shelves with leather shoes and handbags; and in the center, there is a luxurious collection of vintage dresses, with a pair of shoes for each.
A few official shots from the exhibition (below are the photos made by me): All the exhibits match the Art Deco Style — direction that, in the words of the contemporary writer Scott Fitzgerals, was formed by "all the nervous energy, stored and lost in the war." Geometric patterns, stylized rays of spotlights and beams of light, emphasized technologization — all these are distinctive features of the style.
Technologization was also due to the rapid growth of industry, including the production of fabrics and clothing. Materials became cheaper, silhouettes — simplier, beautiful things — more accessible. At that time, the first catalogs of clothes appeared: you no longer needed to go to tailors and take a lot of measurements, just order the vending model from advertising. One more innovation: many agencies offered full looks at once, with footwear and accessories in a set that helped buyers to overcome their fear of "pinks of fashion". The new dance culture also had a great influence on the industry: fast, energetic dances that required looseness and freedom of movement became popular. So, cumbersome Victorian outfit couldn`t fit in.
What was the result? The look of a teenage girl with a fragile figure and a short haircut was in trend. But at the same time they were women who survived the World War I, who launched the suffragettes movement, providing themselves and their beloved ones in difficult times. Therefore, the 1920s were marked in history as the era of strong, free and greedy for life girls and women who were ready to dance all night long and drive their own cars. It was for them that the most mind-blowing outfits were made that we associate with the "Great Gatsby" and Bohemian Paris.
So, the dresses got shorter. They were really very short! Often the "decent" knee-length was covered just by a translucent upper skirt, and an underskirt could really cover only the hips :) But frankly speaking, it should be noted that there are not casual or "mass market" dresses. Here are only chic clothes to go out, entirely embroidered with beads, sequins and crustall. In addition to embroidery, the decor has a lot of fringe and tassels for an outfit to respond to every movement, especially in dance.
In the ornaments, there is geometry, floral ornaments and Oriental motifs. Each dress has a pair of shoes, chosen by curators: The new length of the skirt exposed the girl's legs for everyone to see, so that fashion houses had to think about the design of shoes. Shoes finally became a full part of the look, and often even its highlight: they sewed them from golden and silver leather, and as for decoration, it was amazing! Special attention was paid to heels. The exhibition has many examples of such "ceremonial" options. They were made of wood, painted with enamel and dots, inlaid with rhinestones, covered with imitation of ivory and mother-of-pearl, even forged from copper and precious metals. To tell you the truth, I fell in love with all the specimens presented :) As I said, heels are exhibited under the glass domes, so I got the effect of underwater photography. I hope this doesn't prevent you from appreciating their beauty and the skill of the artists: Shoe Icons is one of the world's largest collections of shoes and costumes, created by Nazim and Elena Mustafayevs. They provided the exhibits for this exhibition, which takes place within the 11th Moscow International Biennale "Fashion and Style in Photography 2019".
The exhibition will continue until May 19 inclusive. If you have an opportunity to visit it, I highly recommend doing it! Press "like", add the publication to your favorites and share your impressions in the comments. Thank you for your attention!