Interesting Ideas to Get Ready for Easter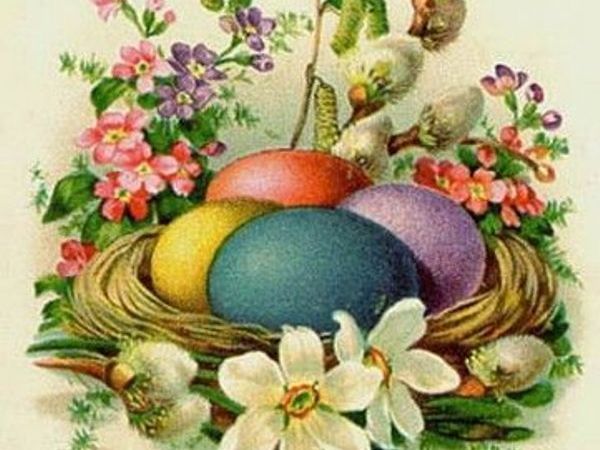 My daughter and I love to prepare for holidays in advance... We like to decorate the house, make a menu, invite guests, make small gifts to our beloved ones. Now, I am preparing with my daughter for Easter, we have collected so many interesting ideas on the Internet that I have decided to share them with you (probably you also need them, but there is no time for it). Some ideas I will explain (the way I see how to make them).
So, the first point, we had window decoration. For New Year, we decorate them and it looked good. And here... the windows are washed and the sun is shining! They ask you to decorate them! There are many ideas, but we have found the sweetest and the least expensive... Paper! You can, of course, and bother with the rest of the cake, shells. From the shell, you can make a very stylish decoration for your table! Just pour wax in it and insert a wick (both are taken from an ordinary household candle). We bought foam eggs (just for crafts) in a stationery store, and the Intesnet offers interesting ideas on how to use them. Easter tree, for example. Or a wreath. We have also found such a lantern at home. Plastic eggs look great in it :) A nest in the lantern can be made from sisal (sold in flower shops) or bast (sold in stores for bathrooms and costs pennies). By the way, the wreath can also be made from paper... Besides, we wanted a basket on the table with flowers and eggs. You can make a basket yourself... It is possible to use natural materials :) Still, gifts for relatives (we give eggs) can be unusually packed.
For this, you need only cheap kraft bags. Of course, the cakes themselves! After reviewing a bunch of options for decor, my daughter and I have decided that the most stylish and unusual — it's to decorate them with meringue! Preparing meringue is very simple, and looks like in expensive restaurants :) And sweet... if you have time for games with children, you can make nice crafts. That's all I wanted to share! I hope you like the ideas we have chosen. All pictures are taken from the Internet (we kept them and did not look for names). If you know their authors (or are the author) write about it, and I will gladly put the names (I will thank you for the idea).
Enjoy spring, have fun with children and delight your beloved ones! Happy holiday!