Bright Doilies by Grandmother Anya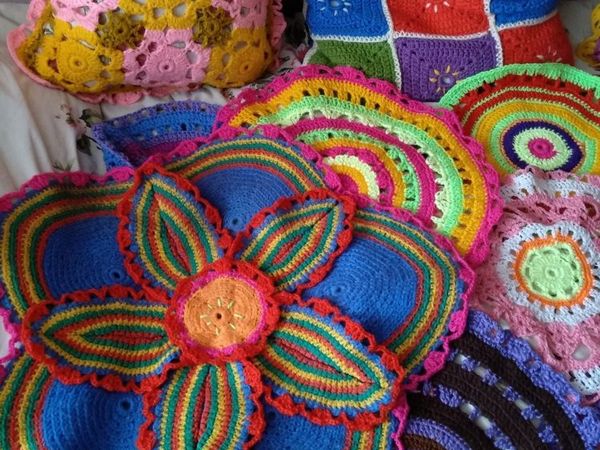 I want to tell you about a wonderful woman — grandmother Anya.
I will not say that she is a unique craftswoman. There are many amazing women in our country.
I will start with the fact that grandma Anya is 86 years old. However, efficiency will last for a long time. In summer she looks after the garden, cleans the grass along the fence, transplants strawberries in straight rows. That she is doing in summer. But when winter is coming, she takes a crochet hook! Every day grandma Anya crochets bright, colorful doilies or huge flowers, or vases, or shawls, or wall panels. The work is humming. The yarn disappeares at the speed of light. When yarn ends, she uses T-shirts and different rags, which she cuts into long threads. So you get doilies. Once I asked:
— Why do you crochet so many doilies?
— Why? grandmother Anya replied. — I'll give it to my friends. I have many friends.
I immediately received the status of a friend and was given a gift. Grandmother Anya solemnly handed me a beautiful, huge doily. I offered to exhibit her works on Livemaster and sell them. Grandmother Anya refused.
She said:
— I got my skills from God. I can still do something for people, bring joy to others. So I will never sell. Only give!
That's an interesting woman. I promised to show her work to the world. I think it's very interesting. Enjoy her work as well.